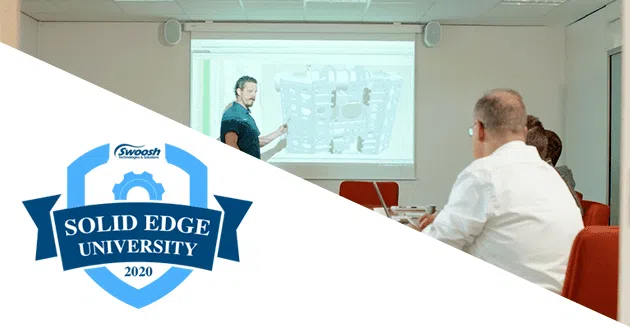 Solid Edge University 2020
Solid Edge University 2020
9 sessions • Sam Estrada, John Vincent, Kevin Grayson, Kyle Aruda, Steve Schnelker
Rewatch our annual gathering of Solid Edge enthusiasts for a full day of sessions to get to know your software better.
We toured the new capabilities added in the software in the first session with Sam. Two sessions in the morning and afternoon uncovered unknown and underutilized tips and tricks that you can implement into your processes today. We also covered 3 integrated tools that you voted to the top before the event. John Vincent had something for the CAM folks in the afternoon. And we also hosted 2 live Q&A sessions.
Complete the form to gain access to all nine sessions:
Welcome to SEU
What's New in Solid Edge 2021
Hidden Gems Part One
Solid Edge Portfolio Tools
Office Hours Q&A Part One
What's New in CAM Pro
Hidden Gems Part Two
Running Solid Edge in a Managed Environment
Office Hours Q&A Part Two
Complete the form below to watch the full webinar replay.