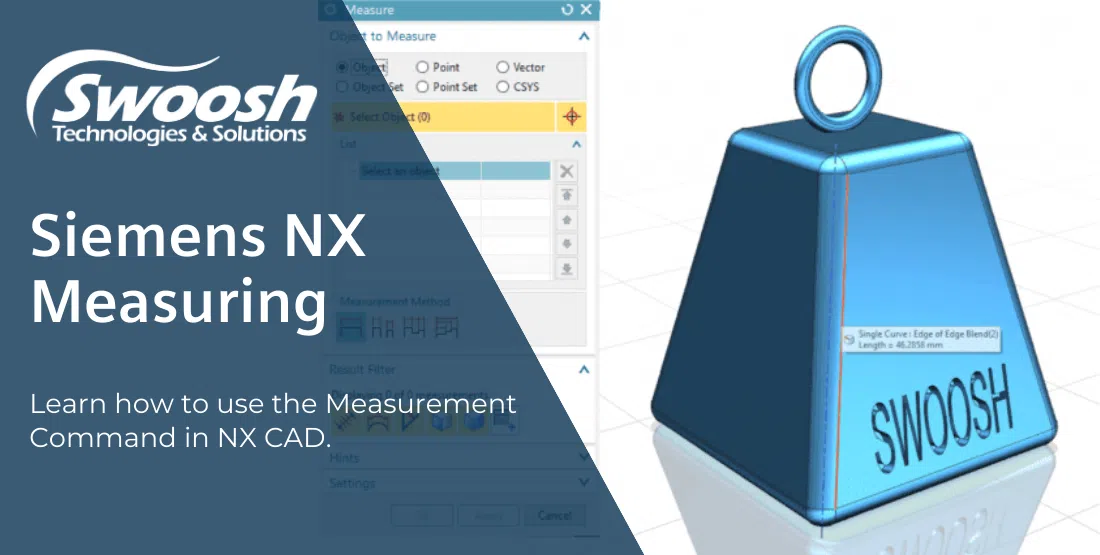 Siemens NX Measuring
How to use the Measurement Command in NX
In prior versions of NX, you would select analysis and then the measure command that you had in mind, (i.e. distance, length). Starting in NX12.0.1, the measure command is now streamlined. It is now in a single user dialogue that lets you filter your selection. Think of it as a condensed menu with all-in-one options.

What are the defaults?
By default, the measure command has a few already set, including:
Object toggled on
Measurement Method set to free
Result Filters shaded
You can turn distance, edge, angle, face, and solid on. Also, you can select objects from your display. NX will then give information about the object you have selected.
(Tip: If you move your mouse over on an object, NX will give you some basic information about the object that is highlighted with a tool tip.)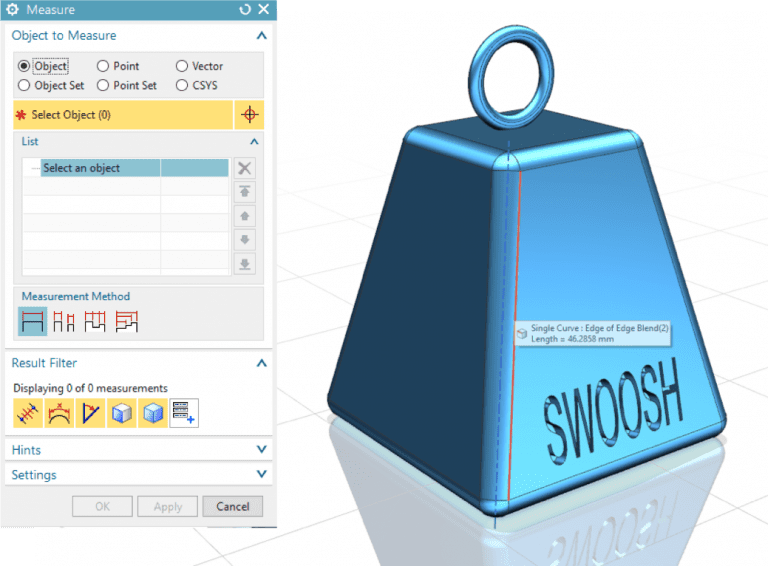 Modifying Measure Command Defaults
Let's use the quick pick dialogue. An alternative is to right-mouse click on the part and select from the list.
Select a solid body to generate a list of results.

In the past, you had to select different features in order to capture information about the specific object.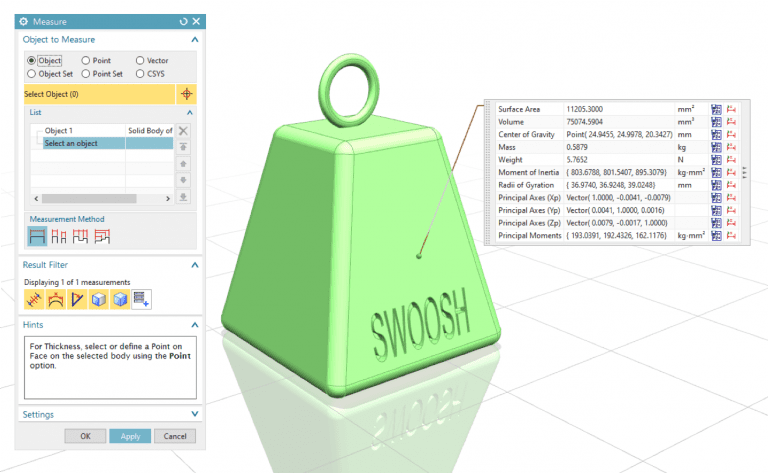 While the information window is open, save the information as expressions within the part navigator (or annotation that is visible in your display). By selecting the icons to the right of the information, you have efficiently captured the information and can review as needed.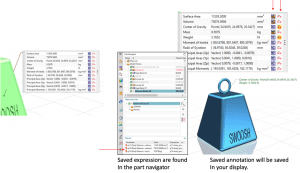 Exporting and Printing Saved Measurements
A nice perk when utilizing NX measurement command is the capability to export and print information.
You can select the saved measurement from the Part Navigator by right clicking in this case "measurement (body)" and selecting information. This will produce an information window that gives you options for your task.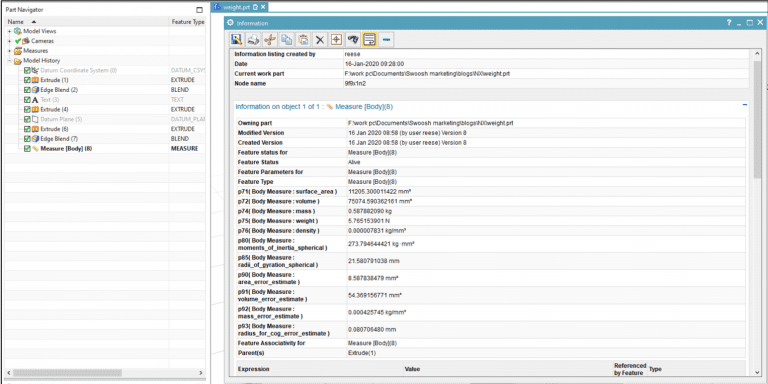 While the measurement tool is open, select the two faces highlighted in green. You will receive a minimum distance and inner angle.

If you only wanted the angle, deselect all the filters not needed to get an angle.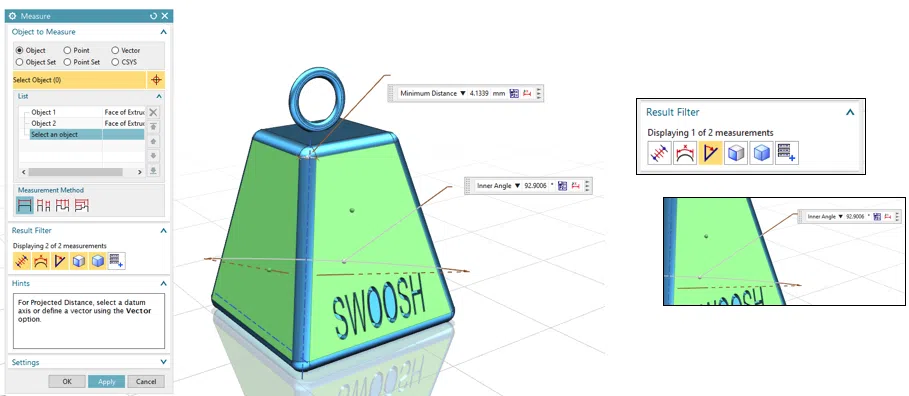 Also, if you wanted a  different result, select from the object list (object 2). Then, select a new face for your angle.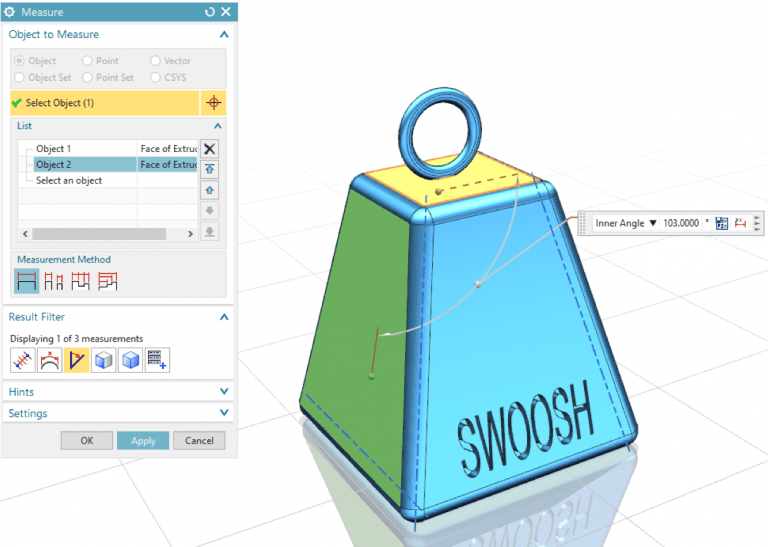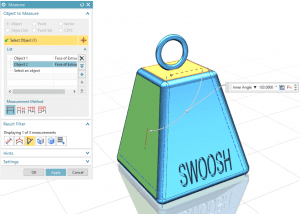 Changing Object Sets and Filters
Moving back over to the measure dialogue menu, let's select the object set and change the filter to face. By picking multiple faces, you can accumulate information about the faces selected and also create a new set in the list.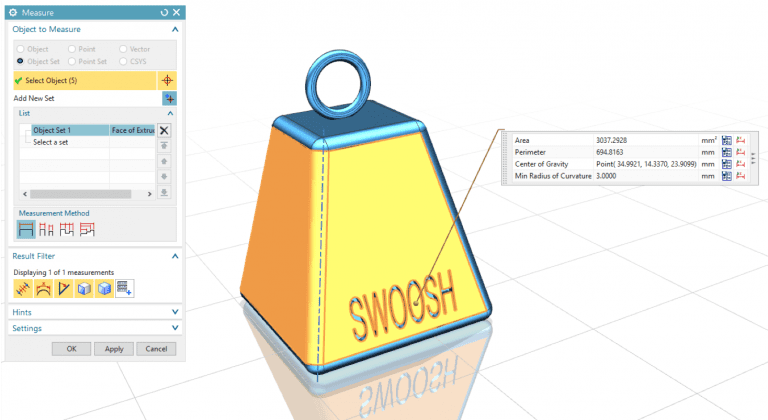 To gather information about the distance between the bottom face and the center point ring at the top of the model. When you select the point, you now have various options in the border bar.

The measurement command does have ways to construct a point and vector. 
You can choose arc center, bottom face and vector by using handles.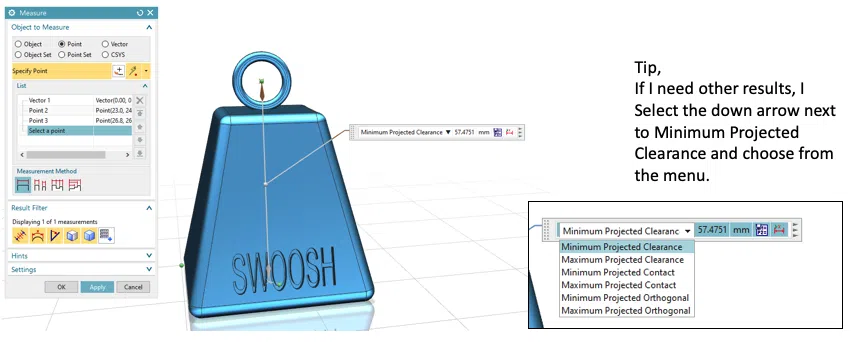 Capturing Angles Between a Ring Center and Surface.
To capture an angle between a ring center and surface, hover over the cylindrical face and select the centerline that appears. After, select face for your angle information.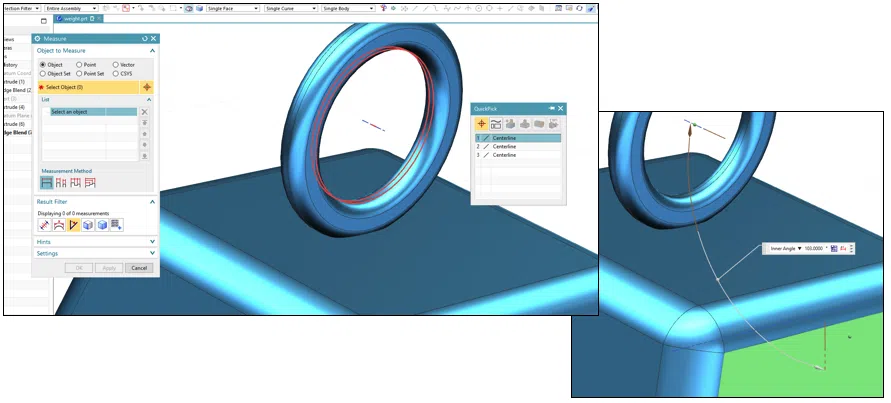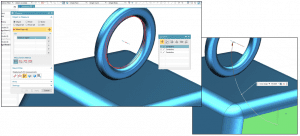 Creating a Center of Gravity for a Part
In this step, we'll look at creating a center of gravity for a part.
Modify the boarder bar selection to solid body. Select the displayed object.
With the information tag open, select the three arrows to reveal more save options.
Toggle CG and principle axis. Then, press ok.
Switch the part to static wireframe. Now, you can see your saved Associated Objects.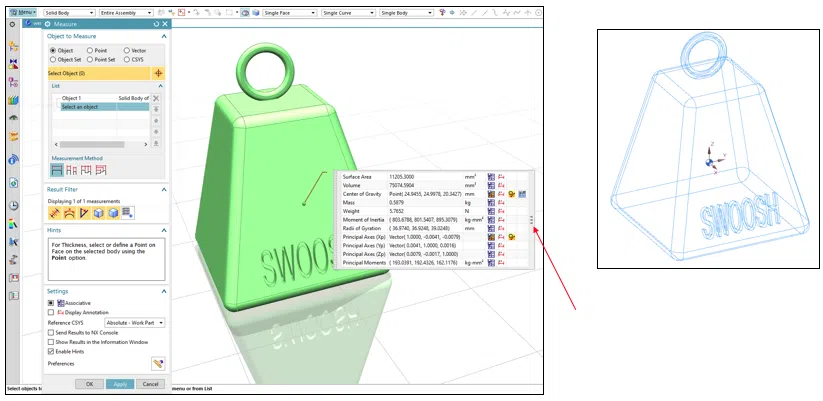 What can you do with Hints and Preferences?
In the measurement menu, there are hints and preferences.
Hints provide helpful information about selecting objects and setting options to make measurements available.
Preferences are useful for general information, measurements accuracy and display, while giving you control of options for displaying output while using the measurement tool.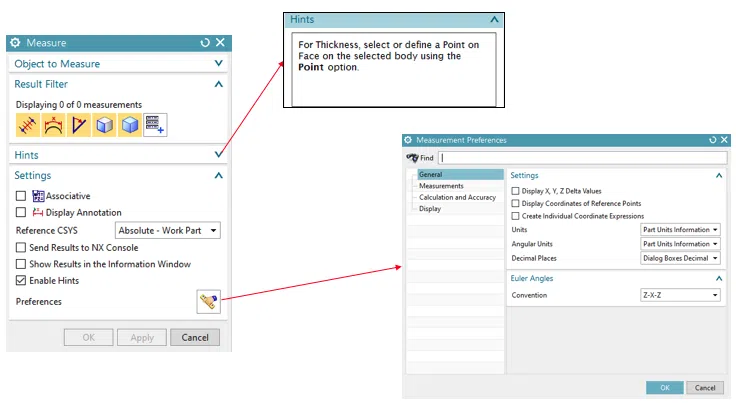 Siemens NX has streamlined roughly 15 commands within the measurement tool, effectively condensing user interface into one menu. How do you think it measures up?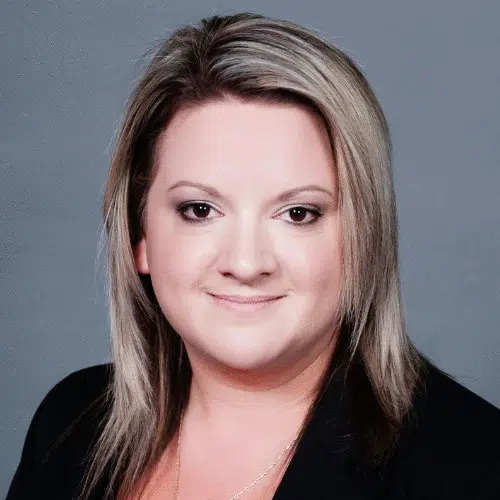 I'm a proficient Digital Marketing Coordinator currently making significant strides at Siemens Digital Industries. I possess ample knowledge of the Siemens Design & Manufacturing industry and consistently strive to create and execute effective digital marketing strategies. I believe that my dedication and skill set are valuable assets in my role, as they allow me to effectively facilitate the digital transformation of Siemens Digital Industries Solutions.