Address complex engineering challenges by enhancing simulation efficiency
Our technological solutions are backed by a team of engineering specialists, dedicated to helping you meet the challenges of your industry and exceed the expectations of your market.
What's Simcenter 3D?
Simcenter 3D is a comprehensive, fully-integrated CAE solution for complex, multidisciplinary product performance engineering.
The software delivers revolutionary improvements in simulation efficiency. With advanced 3D modeling capabilities and simulation solvers that cover a comprehensive range of physics, Simcenter 3D helps you gain better insight into your product's overall performance. This is achieved through a fully integrated and managed, yet open environment, where you perform all CAE pre-and-postprocessing on CAD data from any source for Simcenter software and third-party solvers. Tied to the digital thread, engineers and analysts can collaborate on a platform that accommodates all aspects of functional performance.
Why Simcenter?
Simcenter 3D delivers increased production speeds to your entire product development cycle so you can bring your products to market faster. More efficient simulation processes also lead to more innovation by allowing more design-analysis iterations that can be used to test more design alternatives and make critical design decisions earlier. Your product quality is increased by more easily simulating real-world conditions. You get a truer understanding of how your product will perform. Simcenter 3D also facilitates easier trade-off analysis across multiple disciplines so you develop more robust products. Requirements tracking and reporting capabilities allow you to quickly gauge if your product is performing to specification.
SIMCENTER CAPABILITIES THAT MAKE A DIFFERENCE
Simcenter offers interior and exterior acoustic simulation within an integrated solution that helps you make informed decisions during the early design stages so you can optimize your product's acoustic performance.
Aerostructures Simulation
Simcenter can help you meet shorter timelines and reduce structural analysis costs with the ability to perform end-to-end aerostructure assessment in a fully integrated environment.
Simcenter software is at the leading-edge of composites analysis through continuous development of material models and element types. Simcenter speeds the entire process for simulating laminate composite materials through a seamless connection to composites design, accurate solvers and comprehensive post-processing.
Computational fluid dynamics (CFD) simulation
Simcenter provides industry leading computational fluid dynamics (CFD)  software for fast, accurate simulation of almost any engineering problem that involves the fluids, structures and all of the associated physics.
Durability Simulation and fatigue analysis
Simcenter durability software gives you access to state-of-the art fatigue analysis methods that enable you to perform fatigue life prediction analyses quickly and accurately accounting for realistic loading conditions.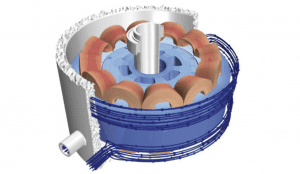 Electromagnetic Simulations
Simcenter includes distinct low and high-frequency electromagnetic simulation capabilities for the unique demands in each domain. Expand your insight into the performance of electromechanical components, energy conversion, design and siting of antennas, electromagnetic compatibility (EMC) and electromagnetic interference (EMI).
Motion simulation uses multi-body dynamics to calculate the reaction forces, torques, velocities, acceleration and more for mechanical systems. You can directly convert CAD geometry and assembly constraints into an accurate motion model or create your own multi-body model from scratch.
Complex industrial problems require solutions that span a multitude of physical phenomena, which often can only be solved using simulation techniques that cross several engineering disciplines.
Simcenter provides the structural analysis software you need to simulate a wide range of applications all within a single user environment. Understanding how a component or product assembly reacts under stress or vibration is critical in any industry.
Structural Dynamics Simulation
Simcenter software offers a comprehensive solution to understand, analyze and improve the response when a system is subjected to dynamic loading. Simcenter builds on over 50 years of dynamics analysis experience to offer you the ability to efficiently understand and avoid excessive vibrations and stresses. Dedicated capabilities are available for noise, vibration and harshness (NVH) engineering, rotor dynamics and correlation.
Simcenter includes comprehensive, best-in-class thermal simulation capabilities that can help you to understand the thermal characteristics of your product and subsequently tailor your thermal management solution for optimal performance.
Efficiently mesh your models using extensive modeling functions for automatic and manual mesh generation of 1D, 2D and 3D elements in addition to numerous techniques for the application of loads and boundary conditions. User-defined geometry edits, mesh and boundary conditions are all associated to the base design, which means when the base design geometry changes, you can rapidly update your model. This approach greatly reduces downstream modeling time, which results in huge time savings across a project's many design-analysis iterations.
Simulation Automation & Scalability
As companies increase their reliance on simulation, they are seeking ways to speed-up the analysis process and increase simulation throughput. One way to increase simulation throughput is to capture repetitive CAE processes, standardize them, and then automate them. Simcenter allows you to capture the expertise of senior analysts and make it available for junior engineers in your organization to use in the form of wizards or templates.
Simcenter delivers engineering optimization techniques that can help you answer these this question by systematically searching for the best design that satisfies certain criteria. Reduce component weight or find the right combination of parameters to improve product performance through comprehensive topology, geometry, and parameter optimization capabilities.
Reduce the time you spend preparing analysis models, and spend more time evaluating results. Quickly move from multi-CAD geometry data to a complete, run-ready analysis model using unique tools for CAE geometry editing, comprehensive meshing, FE assembly management, multi-CAE solver environments, and fast simulation results post processing and reporting.
DON'T TAKE OUR WORD FOR IT.
"During the design phase, we use the solution to gain insight into certain phenomena and to validate internal business rules."
Parametric studies serve to analyze various scenarios and thus deduce simplified models which we make available to other technical centers throughout the world.
Zouhair Chaib, R&D Center Manager Nord-Lock Group
Simcenter Femap is an advanced simulation application for creating, editing, and inspecting finite element models of complex products or systems. You can use advanced workflows in Simcenter Femap to model components, assemblies, or systems, to then determine a model's behavioral response when subjected to real-world conditions. In addition, Simcenter Femap provides powerful data-driven and graphical results visualization and evaluation, which in combination with the industry-leading Simcenter Nastran, delivers a comprehensive CAE solution that improves product performance.
What G2 Reviewers Are Saying About Simcenter Femap
"Excellent program for a wide range of engineering analyses. We perform dynamic analysis and determination of response spectra of NPP buildings and structures. The convenience of the program and the speed of calculations allow solving the most complex production tasks in the shortest possible time."
"User friendly, easy to pick up. Great for finite element analysis. The interface is clean and not overwhelming/confusing."
Fill out the form below to get in touch with one of our specialists to discuss how you can leverage Simcenter 3D!
You May Also Be Interested In…