SWOOSH SERVICES
NX MANUFACTURING SERVICES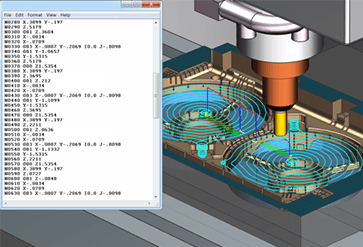 NX Manufacturing: Proven Process Processor
A CAM solution without a post processor isn't much of a solution. Machine tools today have a greater breath of capabilities and options for efficient milling, tooling and fixturing usage, and efficient manufacturing output. At the same time, the complexities of these machine tools have increased exponentially.  Options such as right-angled heads, U axis attachments,  customized routines, just to name a few, are become more common as manufactures are pushed to delivery increasing complex parts at reduced cost.
Swoosh has been delivering complex NX Post Processors for over 15 years. We have grown alongside our NX manufacturing/NX CAM software customers to deliver post processors that meet the needs of their part portfolios.
Our posts won't leave out the many options and machine tool capabilities that you have paid for and expect to use.  The NX post development team has been able to capture many enhanced features in machine tools that make big differences in quality of part finish and lower cost of  completed product.
If you're looking for an NX post to complement not only your Siemens NX CAM software but to also leverage your machine tool to its fullest capabilities, reach out to one of our NX manufacturing team members today and be on the road to make perfect 'chips' with every cut.
NX Manufacturing: NC Simulation – NX Kits for Simulation and Verification
You have a post processor you've built and are ready to use.  You load your stock, check you set-up and offsets, and then press the cycle start button only to have what all NC programmers fear, the unexpected occurs.  It may be the spindle hitting the fixture, or the tool hitting the stock, but regardless of the collision type, it was unforeseen and not anticipated. If you're an NC programmer, you know exactly the feeling of dread when you release a new program to the shop or to a new machine tool.  That fear is real as too much is still unknown.
It's high time to remove this programmer fear factor and take the guess work out of the performance of your NC program.  NX Kits combine the proven NX Post Processor with the machine tool kinematics so true NC simulation and verification can take place before the programming is released to the shop. The G-code-driven machine tool simulation displays the motion driven from the NC code output of the NX internal postprocessor. NX Kits can verify any potential hazards or collisions with your 3, 4, or 5-axis and mill/turn machine tools.
NX CAM will make your simulation and verification 'smart'.  The NX Kits will recognize your machine, material stock, holder(s), tooling, and potential fixturing being used.  If a collision is to occur, it will be on your computer, not the machine tool.  You can also increase productivity by running multiple scenarios for optimal material removal.
If you're looking to remove the fear of the unknown, reduce the needless hours of testing a new program block by block, limit air cutting,  it's time to combine your proven NX Post with machine simulation.  Reach out to one of our NX manufacturing team members today to better understand how Siemens NX Kits can help you be more productive. When it comes to NX manufacturing, you want a partner with proven expertise and that's where we come into play.
NX Manufacturing: CAM Automation
Do you have a few areas where you think improvement is possible? With NC programming?
Manual programming that results in errors and shop floor delays
Redundant programming effort for similar types of parts
Mistaken interpretation of drawings
Excessive training time for less experienced personnel
On Shop floor?
Incorrect NC programs (missed features, incorrect selection of tools)
Incorrectly specified shop documentation
Excessive training time for less experienced personnel
Dependency on paper-based processes
Standard machining processes/standards not properly followed
The necessity for programming automation becomes apparent in the day-to-day activities of both the manufacturing engineering and shop floor machining departments.
Swoosh can help you identify areas that would be a good fit for manufacturing automation.  Siemens NX offers Feature Based Machining (FBM) and Product Manufacturing Information (PMI), which when applied can be a 'game changer' for increasing efficiencies.
Feature-based machining (FBM) is intended to make NC programming faster and easier with automated programming. FBM can provide higher quality because of fewer errors and deliver greater standardization through the use of proven and preferred processes and resources.  FBM in NX also offers the linking of NC programming to 3D model annotation. In step one of the FBM process – feature recognition – NX can look for and read nongeometric data attached to the model, the industry standard format PMI data.
When you're ready to take the next step in NX CAM automation, look no further than Swoosh Technologies.