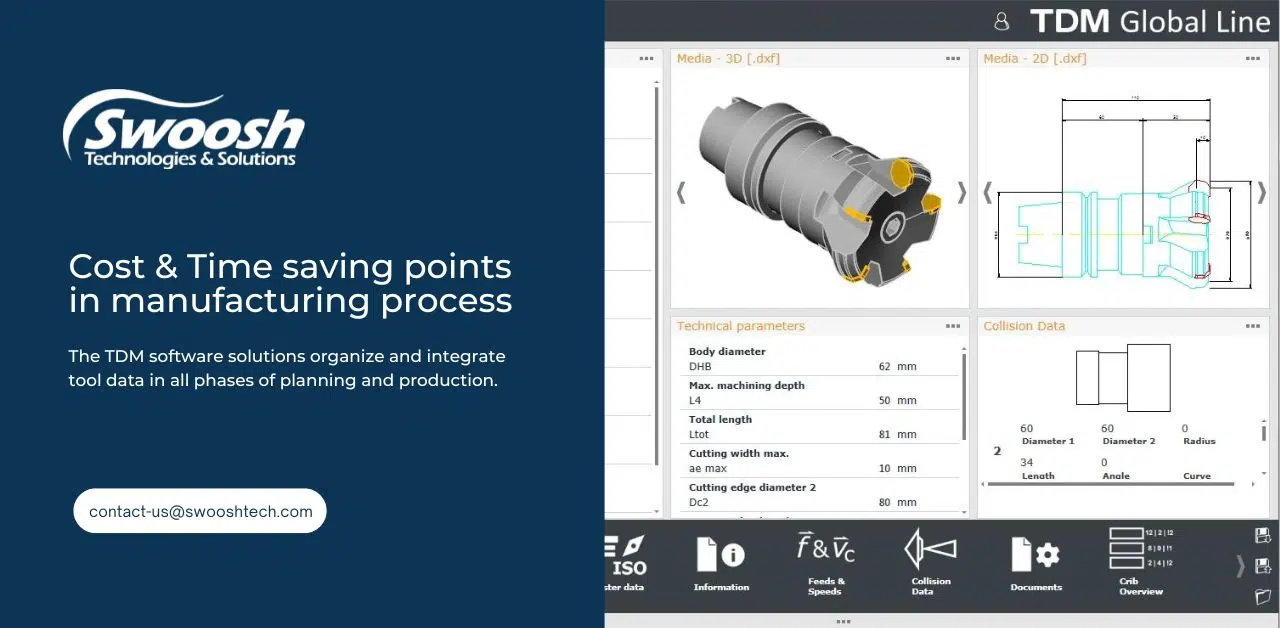 TDM | Cost & Time saving points in manufacturing process
Cost & Time saving points in manufacturing process – Tool Data Management
Tool search…………. Programmer
Import tools in NX – simulation…………. Programmer
Production order in Tool Crib or Machine………. Tool Crib personnel
Machining …………… Machine Operator
Returning tools…………. Tool Crib personnel
Programmer will analyze part and decide on what tools to use. First struggle here is that he does not know what tools are available on the shop floor,
He can choose what he thinks it is best but if they don't have it on the floor, they would have to purchase it and wait it to arrive,
Now, he must walk to a shopfloor and search,
If tooling storage is not managed properly, he will spend a lot  of time searching,
Many times, bins are not labeled and there will be different cutters in one bin (different vendor, flute length, teeth, material…),
He will have to make decision, pick one tool and make a model in NX, and add a holder to it. Whatever he picks, in most cases, he won't be sure of tool Manufacturer EDP or original dimensions,
Model can be different from original if tool is resharpened, modified and without Manufacturer EDP for website reference,
Simulation without TDM won't give certainty that machining will go smoothly because tool is not defined enough.
Simulation with TDM will give you real picture of machining with defined cutting item, holder, stick out and even feeds & speeds.
Production Order without TDM will mostly have a poor info on tools (no Manufacturer EDP, flute length, no holders, no stick out…etc.)
Person that will put these tools together will have to search again in same unorganized cabinet/bins and then make a DECISION on what items to take, what stick out will be, and so on.
Chances that those tools will be same as those from simulation are close to zero.
This is now most critical point in process:

Waist time in another long searching,
Waist on making another decision,
Raise chances of crashing machine,
Crash will stop process that is most likely time sensitive, and in case of late delivery of parts, company might pay penalties but also lose some customers,
Costs of broken tool,
Costs of broken part,
Reason for crashing machine is not obvious what can lead to repeated mistakes,
Wrong tool can lead to significant loss of time and money.
One tool list or one whole day with so many Production Orders will make that loss exponential.
Project this to one week, one month or year, and you have a bottomless hole.
After installing TDM, company will assign someone to create complete TDM tooling library, so that everything is available for programmers,
After analyzing part, programmer will make quick search in NX for TDM tools.
He will either find everything right away or request what he couldn't find, from TDM tooling engineer.
TDM tooling engineer will have another search in TDM for needed item,
When he find the cutter programmer needs, he will create assembly according to programmer instruction ( like: to certain stick out, holder long or short, holder with interface to certain machine like CAT 40 or HSK…)
Tool list can be created in TDM and imported to NX. It can be made in NX too and loaded into TDM,
TDM assembly has BOM of unique Items:

All items are on your shop floor,
Each item has unique ID, Manufacturing number and good description,
You can create location of each item and all assemblies with quantities in TDM,

Tool Crib personnel will get 2D and 3D of each tool, Bill of Materials what is enough info to build those tools and benefits of this are:

With 2D and BOM, they don't have to think or search for cutter, holder, collet etc. They know exactly what items to take and how to build it,
That saves you a lot of time and significantly reduces chances for crashing machine, because it passed simulation,
If you have locations created, it will save you more time with searching,
Tracking quantity and set minimum stock will save you from unnecessary downtime,
All of this will call shop floor management to put their tools in order, invest in cabinets, create location and labels for every single item,
It will reduce need for many different versions of same tool and lead you to standardize your tooling lines what will again reduce costs,
Tracking tool life in TDM will give you a picture of what tools are better for you…
With everything said, I hope you can see what TDM means for your business, for your everyday life.
Now, my question for you:
Do you have some of these struggles from above?
Can you live with these struggles?
Can you still be successful without good tool management?
Can you live with fact that in this digital time, where you can use your phone as a tool for so many things, find everything you need on internet, you still struggle with same tooling problems for last 30-40 years?
Are you ready for digital manufacturing?
Do not wait, because TDM is not only a future, TDM is here now as your portal to future!
Hello, My name is Ivan. I'm a Training and Support Lead at Swoosh Technologies with expertise in TDM Systems, NX CAD & Solid Edge. I strive to make the lives of others easier and enjoy exploring the bigger purpose in this role. In my free time, I enjoy spending time with family, creating music, traveling, and hiking.