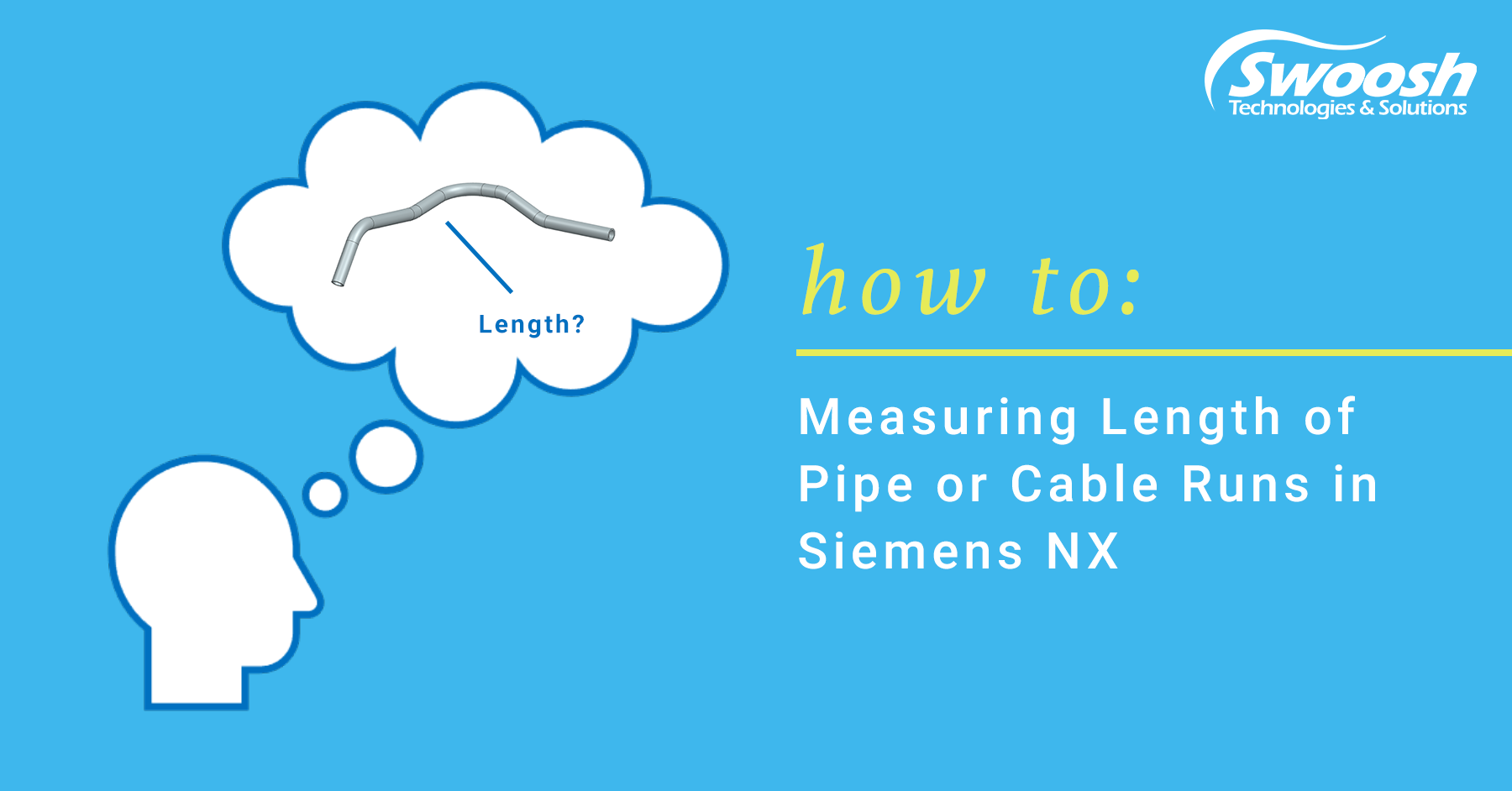 How to: Measure Length of Pipe or Cable Runs in Siemens NX
How to: Measure Length of Pipe or Cable Runs in Siemens NX
This "NX Pipe and Cable Length Measurements" blog will show you how to use a combination of commands in conjunction with one another to get the overall length of a pipe or cable run in NX.
You might have a pipe or cable run in your NX part or NX Assembly and would like to be able to get an overall length of that pipe or cable run. This tutorial will show you how you can use a couple of commands in NX (Extract Virtual Curve and Measure Tool) to find and generate the overall length of your pipe or cable runs. You'll learn how to use the Extract Virtual Curve tool as well as the Measure Tool to create an associative measurement for your pipe or cable runs.
Software prerequisites: NX 1847 Series or newer
If you want to follow along the steps of this tutorial in your own NX software, you can download the part file here.
NX Features/Tools Used in this Tutorial

Extract Virtual Curve – Command used to create curves from face rotation axis, blend centerlines and virtual intersections of blend faces

Measure Tool – Command to analyze your model and create measurements for the objects you select. You can control how the software processes the selected objects and filter the available measurements to display only the measurements you need. The measurement results can be saved associatively in your NX Parts.

Edit Object Display – Command that allows the user to modify both general and analysis type options for the display or appearance of those items.
Steps | NX Pipe and Cable Length Measurements
Begin by opening your NX part file with the Pipe or Cable that you would like to measure. For illustration purposes, we'll use the following:
2. Next, you'll want to proceed to the Curve Tab > Derived Group > More Dropdown and select the Extract Virtual Curve icon.

3. On the Extract Virtual Curve dialog > Type drop-down, select Tube CenterLine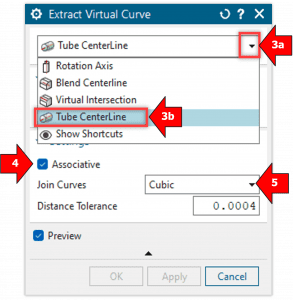 4. Once step number three is completed, don't forget to check to ensure that the "Associative" box is checked.
5. On the Join Curves drop-down, select Cubic
6. Select the tube/cable body that you would like to create a centerline thru. Then select the OK button to complete the operation.
Quick Tip: If you have multiple segments with tangent bends connecting the segments, you can change Face Rule on the Scene Selection Bar to Tangent Faces. You can now select 1 of the segments and all the tangent faces/segments will be selected for you.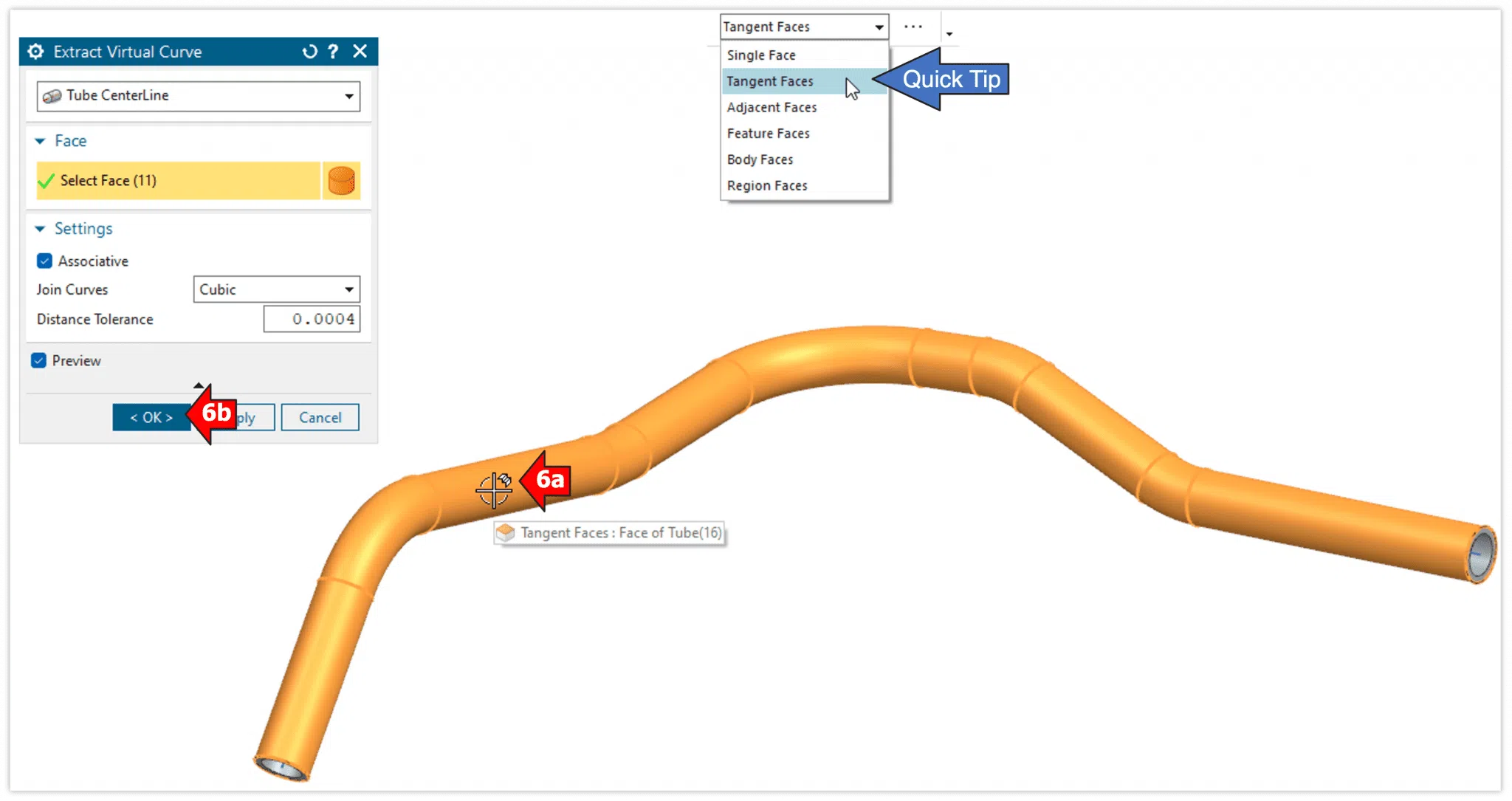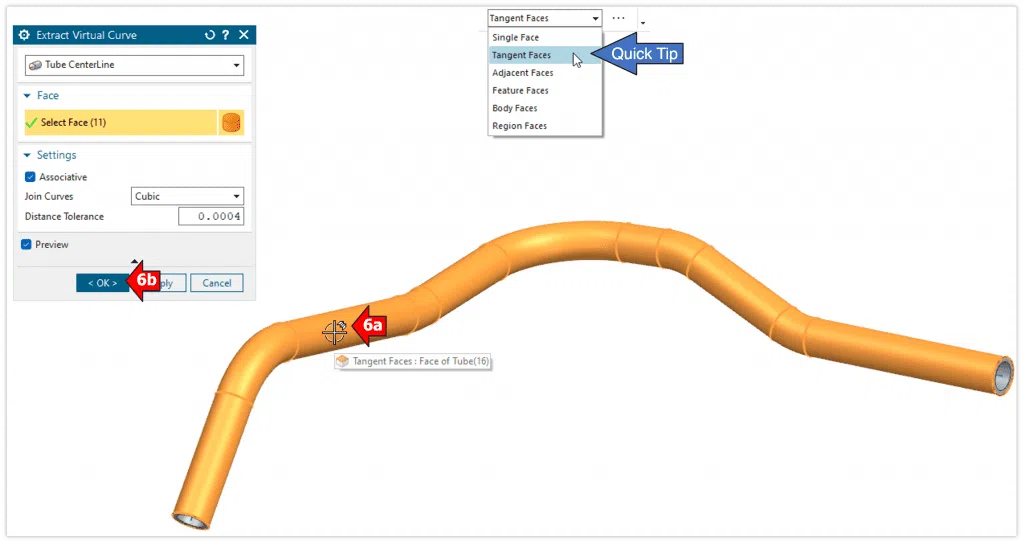 7. On the View Tab > Display Group, select the Style drop-down and choose Static Wireframe
8. On the View Tab > Object Group, select Edit Object Display. The Class Selection dialog will open.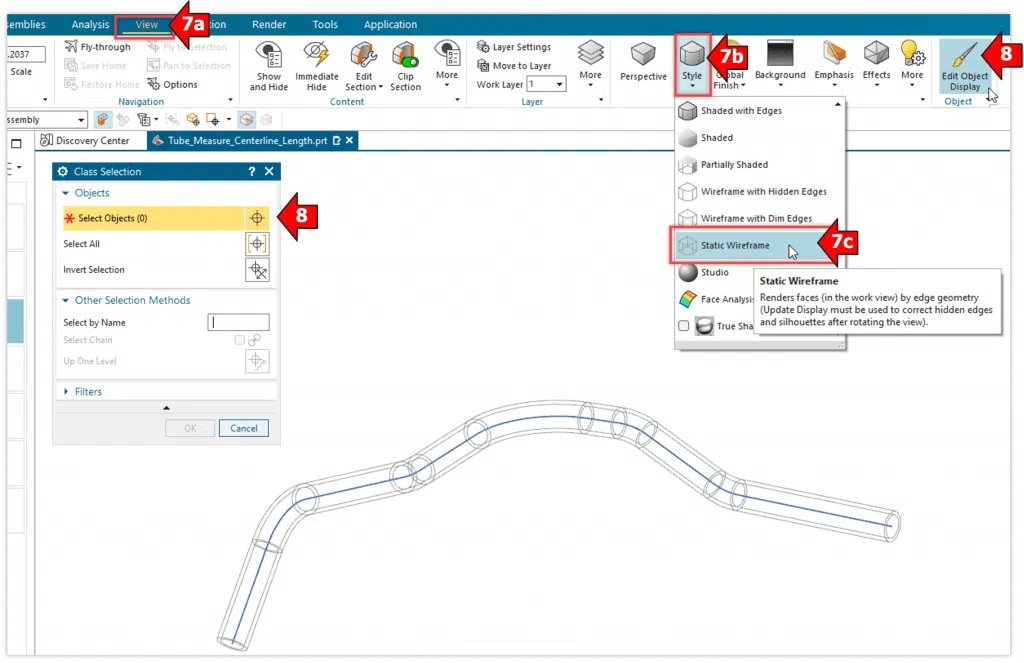 9. Select the Virtual Centerline feature in the graphics display. The Select OK.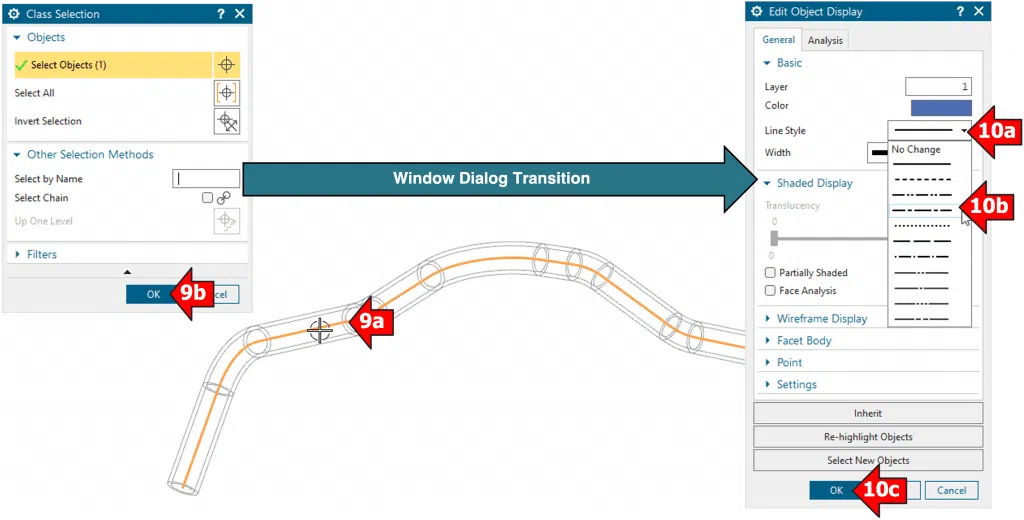 10. the Edit Object Display dialog > Line Style drop-down, select the Center Line style, then select OK.

Results after editing the Virtual Centerline feature font.
11. On the Analysis Tab > Measure Group, select the Measure icon.
12. Select the Reset button at the top of the dialog to set the default settings for the Measure Tool. Expand the Settings section > select the check box next to Associative and Display Annotation items.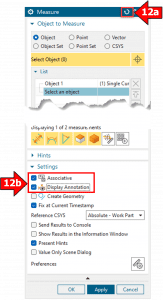 13. Select the Virtual Centerline feature then select OK to create the associative measurement.
14. The measurement will now be saved and there will be a new Measure Feature in the Part Navigator. A Measures folder in the Part Navigator will also contain all the saved measurements that the user has created in the part. To edit an existing Measure feature, just double click on the measurement feature or on the measurement in the Measures Folder.
Now that you have an associative measurement, you can easily reference the measurement expression (value) down-stream in your parts by using expressions in the same part file, linking expressions between assembly components or using the information on your drawings.
The End | NX Pipe and Cable Length Measurements Tutorial
This concludes our tutorial on NX pipe and cable length measurements. If you have any further questions on this subject, feel free to drop me a comment in the comment section below.
Furthermore – if you're interested in taking your software skills even further this year – we offer NX training classes to users of NX CAD/CAM. At Swoosh, we specialize in process-based training which means we don't just teach you clicks and menu picks but designed our training to teach you how you can integrate new NX tools and concepts into YOUR daily process. Additionally, all our classes are designed to be hands-on, interactive sessions (you won't find death by powerpoint with us) with time to ask questions. You can view our upcoming classes here.
Not ready to dive into training classes yet? Check out our other blog tutorials and sign up for our newsletter below to stay up-to-date on new how-to's, NX updates & more:
Sign Up for Our Newsletter!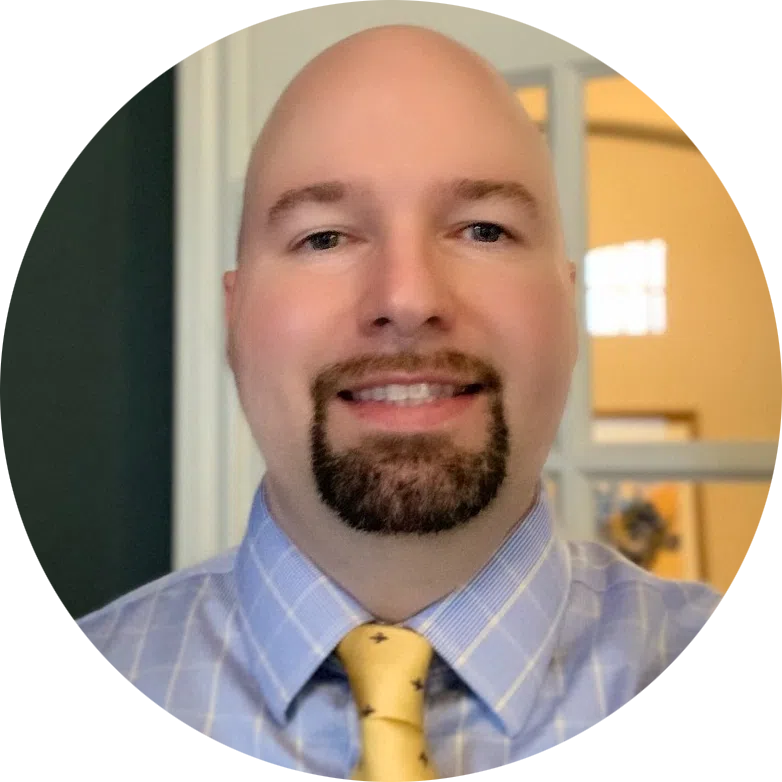 For over twenty years, Michael has worked first hand with NX in the aerospace and consumer goods industries, building skills like geometric dimensioning and tolerancing, 3D renderings, and computer aided product design in NX.