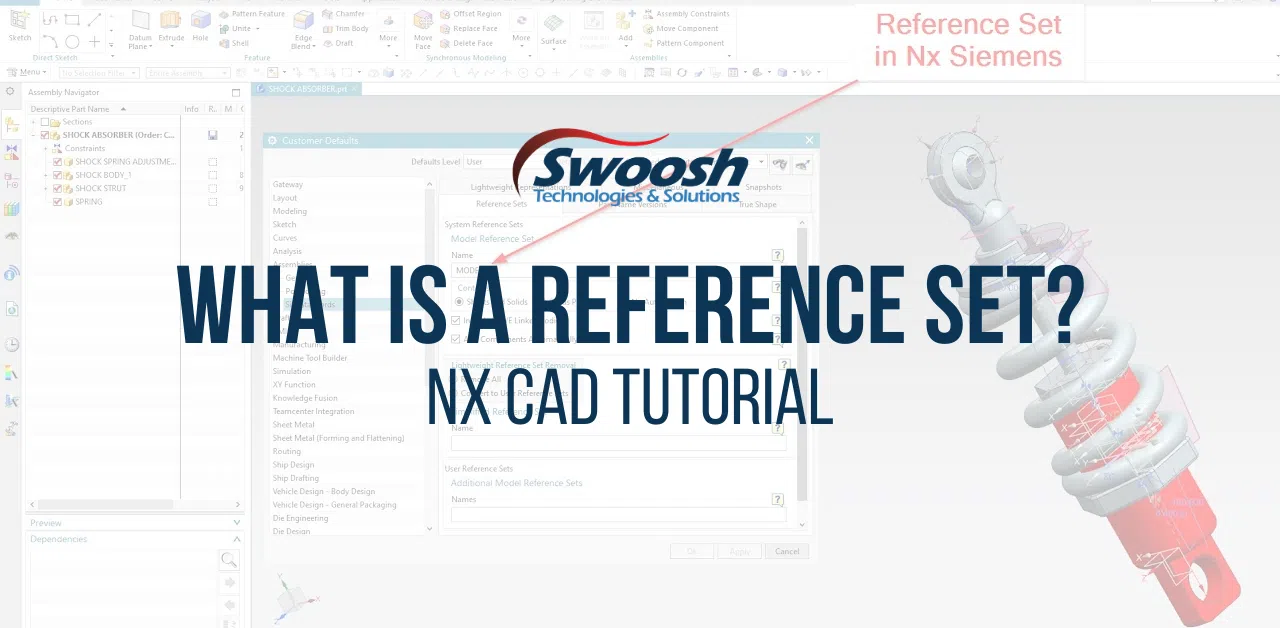 What is a Reference Set?
Reference Sets are used to control the display of a component or subassembly in higher level assemblies.  In today's blog you will discover What a Reference Set is while engaging in NX CAD. Without further ado, let's get to it.
What is a reference set, with some examples
Types of reference sets
What is an "Excluded" Reference Set?
How to make a User Named Reference set source(s), Siemen's documentation
There are two types of reference sets:
Automatic sets that are managed by NX.
Model, Empty, Entire part
User-defined sets
As you create geometry, NX automatically defines the Model Reference set.  This Model is comprised of a solid geometry.  Not included: datums, sketches, or other construction geometry.
Empty and Entire part are self-explanatory.  For the Empty use case, see below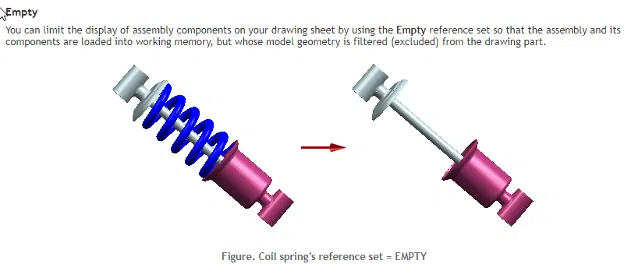 User-Defined Reference sets are collections of objects that you assign a name to, in a piece part or subassembly.
For a piece part, such as an optics lens, model geometry with datum CYS is one option
For a rotating part, add a direction arrow
For an odd shape, add alignment datum axis or wireframe direction arrow
In a routing scenario, a port assignment reference set may be defined for a component
And so on…
This is an optic for laser application.                                                     
How would you align it?
A focal plane is also required for object/image distance
Solution:  Add a datum plane at focus, then create a new set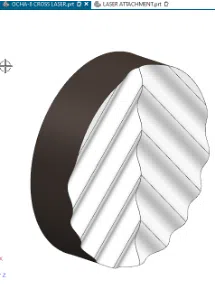 Use of Reference Sets:
Filter unwanted objects in a component part so that they do not appear in the assembly.
Add additional objects to assist in interpreting the assembling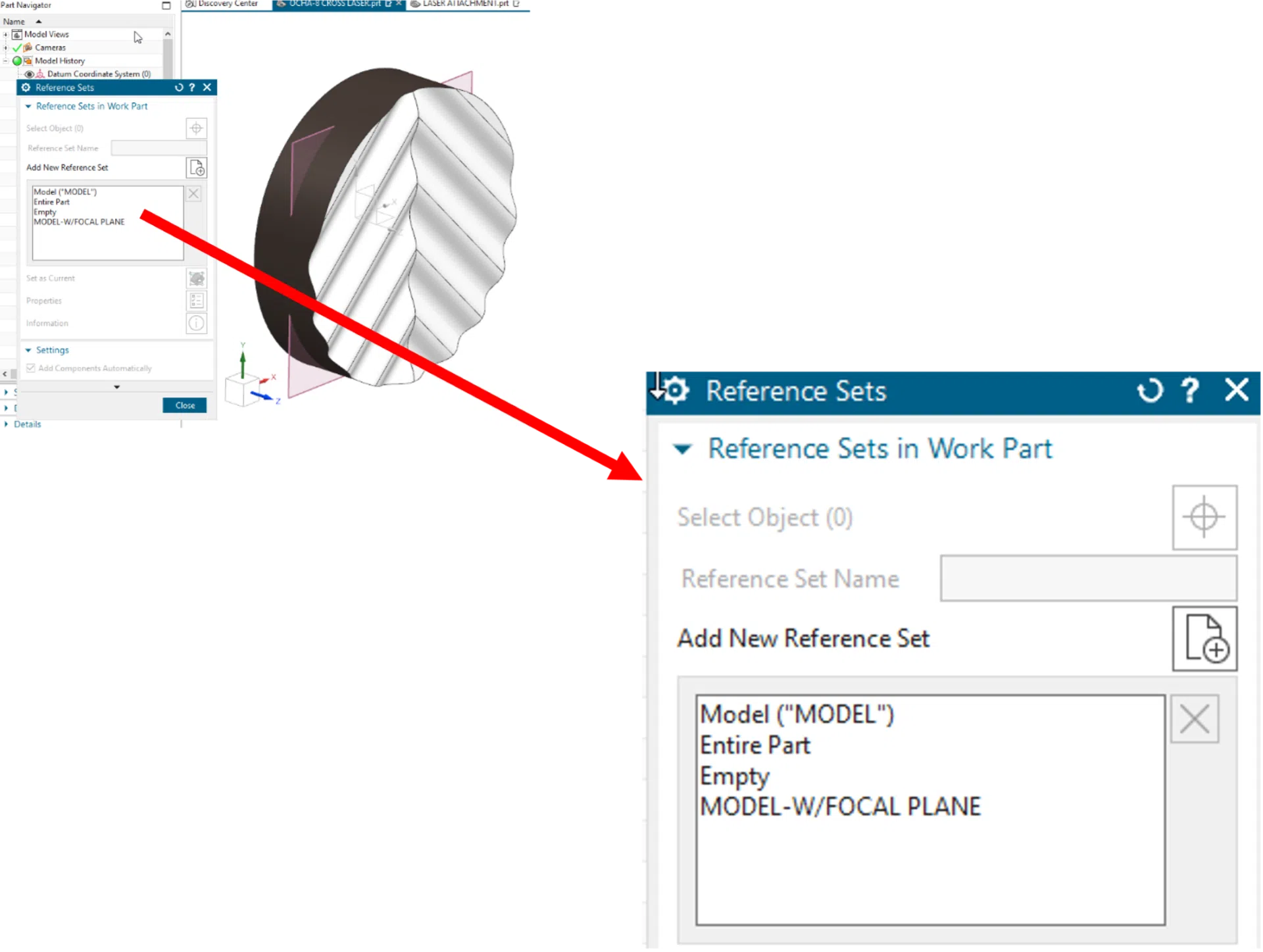 While in use:
Filter unwanted objects in a component part so that they do not appear in the assembly.
Add additional objects to assist in interpreting the assembly
Represent a component part in the assembly with alternative geometry in complement with the solid body
Laser Attachment with beam path placed at the focal plane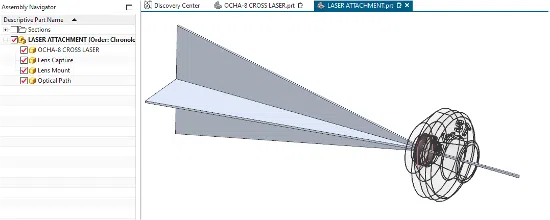 In the Entire Part reference set case, all of the part objects as datums, planes, lines, are shown in the assembly.  This can be visually cluttered depending on the component.
What is an "Excluded Reference Set?"
In an assembly, some parts might not be visible.
When you try to make these parts visible by clicking the checkbox, this message appears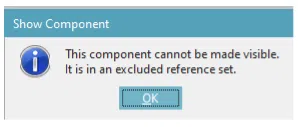 You cannot make the part visible by changing visibility options or by using the "Show and Hide" commands.
Now what?
Right-click on the part in the assembly navigator.
Move the cursor onto the "Replace Source Set" in the list.
The list will open.
Select an option such as "Entire Part" or "Model"
How to make a User Named Source set
Objects that can be a member of a reference set include (partial listing)
Geometry
Datums
Coordinate systems
Pattern objects
Subassembly components
Additional objects that would not be a set are identified as:
Promotions
Individual datums that belong to a Datum CSYS. [You can add an entire Datum CSYS.]
View-dependent objects. Their visibility is controlled by the view in which they are displayed, not by the set in use.
Example of a user-defined reference set (source:  Siemens Documentation)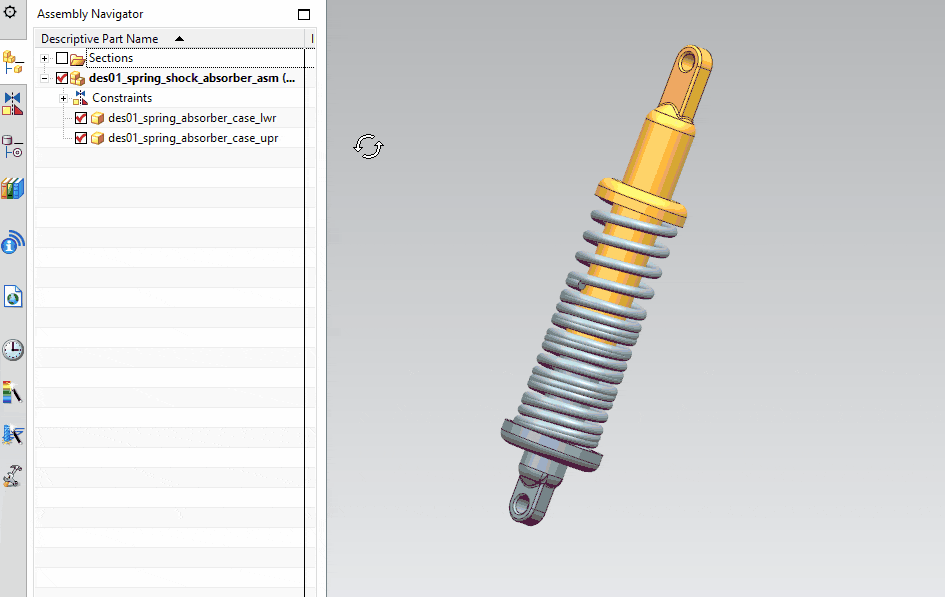 Determine the content of existing reference sets by looking in the Reference Sets folder.
You will need to enable the 'Display Reference Sets Folder' option in the customer defaults settings.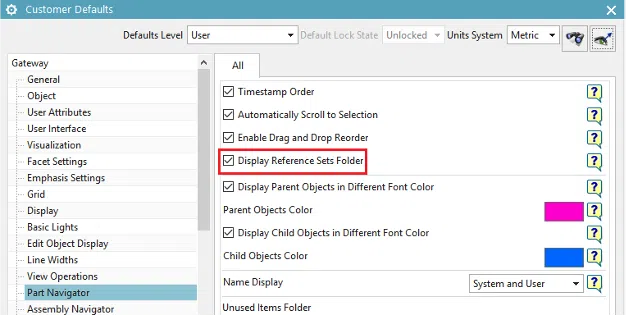 User-defined Source Sets (in alphanumeric order) followed by system-defined source sets
The same order is displayed when you use 'Replace Source Set' in the assembly.
The 'Source Sets' node is available in the part navigator when the 'Timestamp Order' is on or off with the difference as noted below.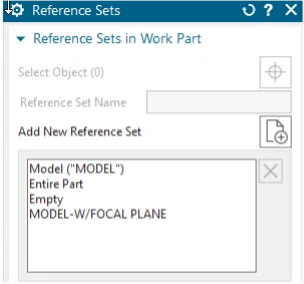 Source sets Folder – Timestamp Order is On
When Timestamp Order is on, this source sets folder displays only the sets itself and their first-level children, such as solid bodies, curves, or sketches.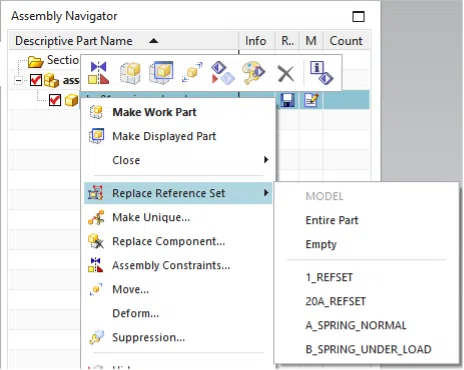 Source sets Folder – Timestamp Order is Off
When Timestamp Order is off, children will show their construction details, such as Features, Curves and Dimensions, External Reference, Reference.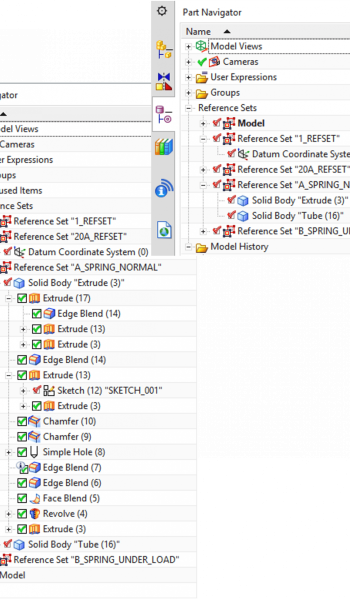 A well-managed reference set methodology allows:
Faster load times.
Reduced memory usage.
Less cluttered graphics displays.
Also, there are additional training opportunities available on our Website. We are just one click away from assisting you go beyond may already know or would like to learn..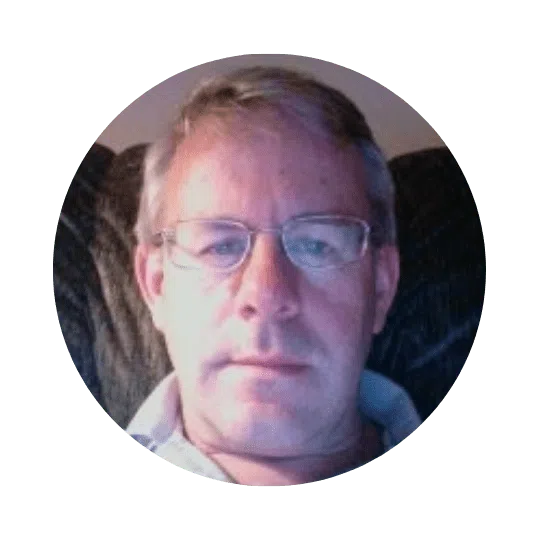 Hello, I'm Craig! With beginnings starting as an engineer/draftsman back in 1983, I was the first user of McAuto Unigraphics II Version 1.0. At that time, Teamcenter was not invented, however the need for file management was soon recognized. I am now an Application Engineer at Swoosh Technologies that specializes in Teamcenter, and has a background in new product development, working on a wide range of products such as the following: Copiers, Ink Jet Printers, Scanners, Satellites like Google Earth, Fusion Energy Research, and Industrial Compressor Design (HVAC).