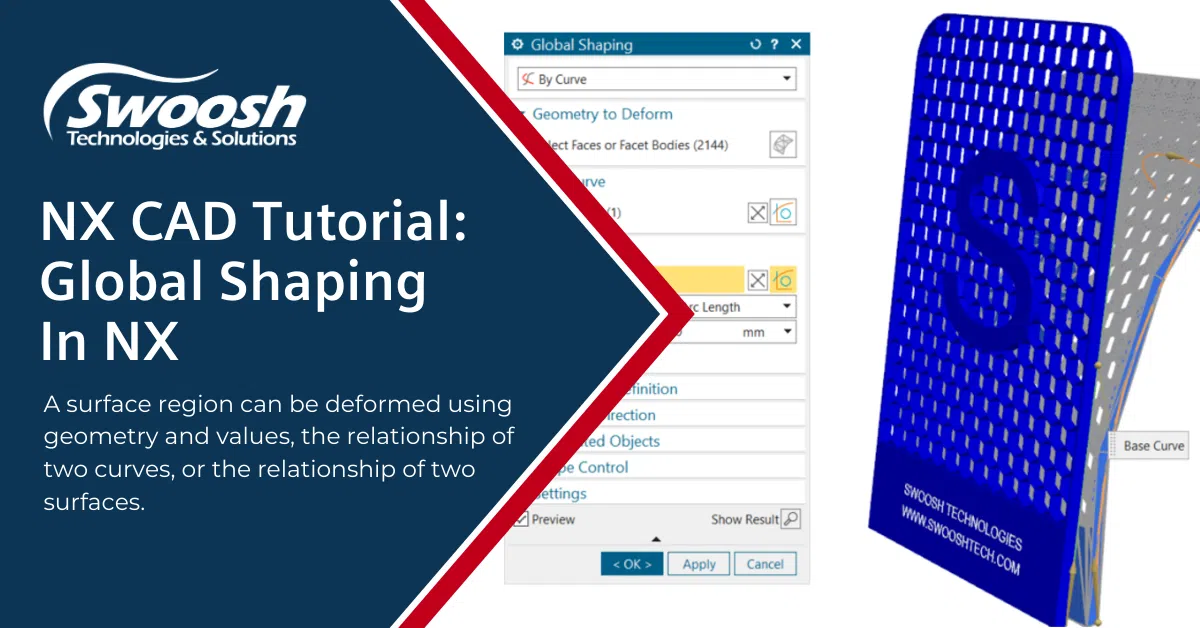 Global Shaping in NX
NX CAD Tutorial: Global Shaping
In this tutorial, learn how to do NX Global Shaping. Use the Global Shaping command to deform a surface region using a combination of geometry and values, the relationship of two curves, or the relationship of two surfaces.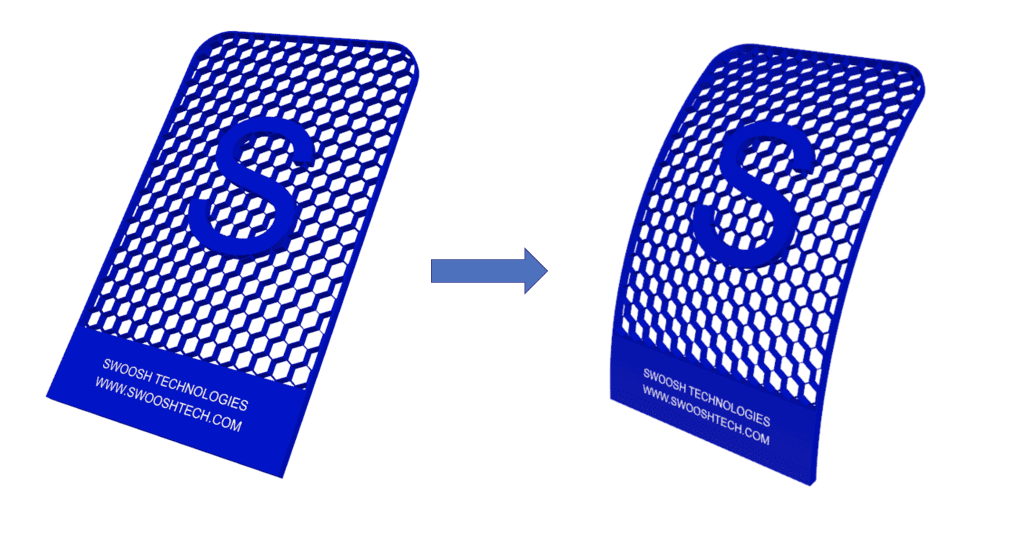 What is Global Shaping Anyway?
Global Shaping lets you deform a surface in a predictable manner, with full associativity. You can use it to alter existing surfaces while preserving their aesthetic properties. With Global Shaping, you can also use it to modify surfaces to account for the effects of springback during metal forming.
There are various options to control your shape.
To point
To curves
Open region
Wall deformation
Over bend
Match sheets
Stretch to curve
Stretch to point
Radius reduction
By surface
By curves
In this NX Global Shaping example, I would like to take the planer model and give it some curvature. I will be starting off with a solid model using traditional design techniques. If you are working with a supplier part, then it could be a step file.
Create a curve by either sketch or using arc/circle.
Now select Global Shaping from the Surface tab. Then select More in the Edit group.
If you don't see the Edit group, you may need to change your roll to Advanced. That can be found in the Content dropdown menu under Roles.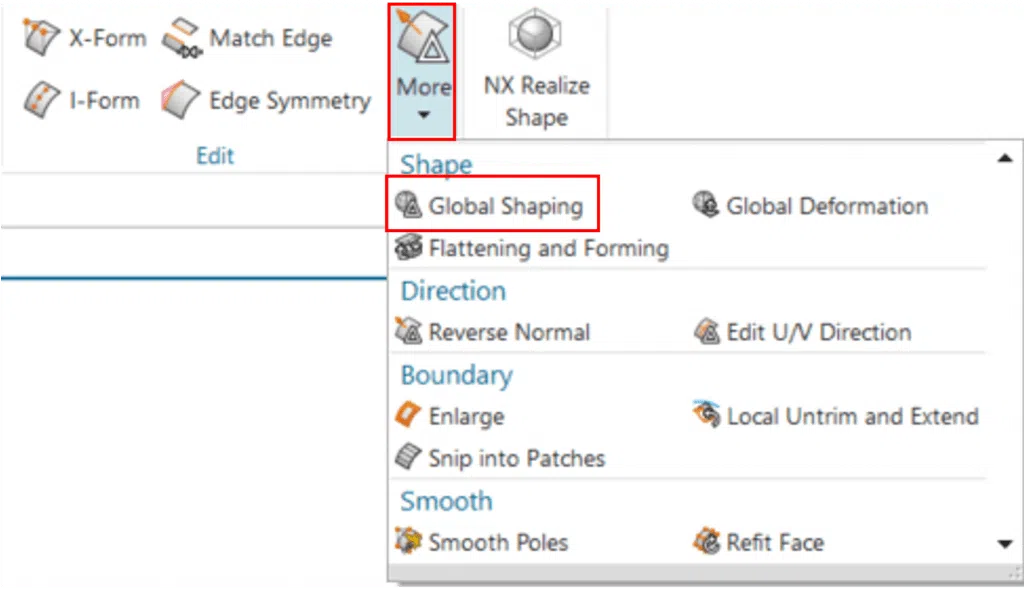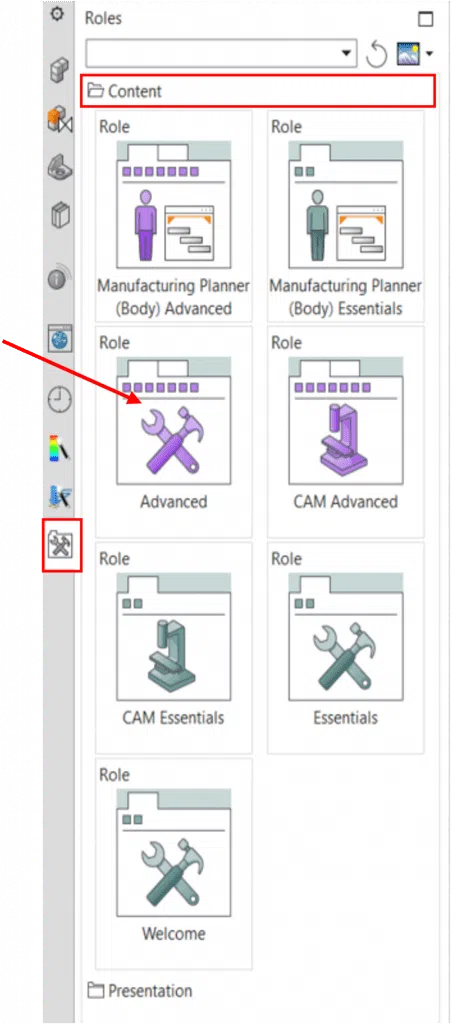 With the Global Shaping dialog box open, select the button to reset the dialog.

Expand the dropdown menu to select By Curve.
Working down through the menu, you will want to satisfy any red asterias.
Choose the faces or facet body.
The base curve will be on the side edge. Pay attention to the scene selection bar for the Single Curve option.
In the Control Curve dropdown, select the select curve so that it is highlighted.
Now, select the arc and make sure "Keep Base Length" is toggled.
Lastly, select OK to finish. Now, you will have a globally shaped piece within NX.
Can You Use This Global Shaping Tool?
Keep in mind, Global Shaping is part of a Siemens advanced freeform bundle "NX freeform 2." This bundle is included the following Mach bundles as well as the Cool Shape bundle:
Mach 3 Production Design NX93100
Mach 3 industrial design NX93300
Mach 3 additive design with convergent NX93110
Mach 3 Mold Design NX93110
Mach 3 Progressive Die Design NX93210
NX cool shape design bundle NX92300
If you are interested in seeing a visual representation of this in action, watch the brief video walkthrough of this exact demo.
If you would like what you read and want to learn more about our upcoming in-person and hands-on training events, check out these details for the upcoming NXU Fall '21. That's right- we're back in person and traveling to 8 different cities across the country. We hope to see you there!
Sign Up for Our Newsletter!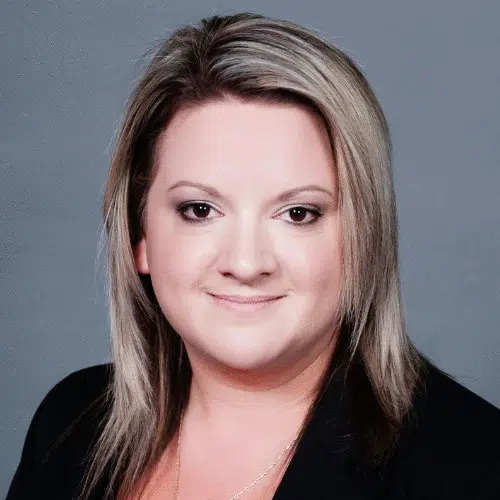 I'm the Marketing Manager here at Swoosh Tech and I have over 15+ years in marketing with 6.5 years dedicating my time to the Siemens Design & Manufacturing industry. I possess ample knowledge of the Siemens Design & Manufacturing industry and consistently strive to create and execute effective marketing strategies. I believe that my dedication and skill set are valuable assets in my role, as they allow me to effectively facilitate the digital transformation of Siemens Digital Industries Solutions.