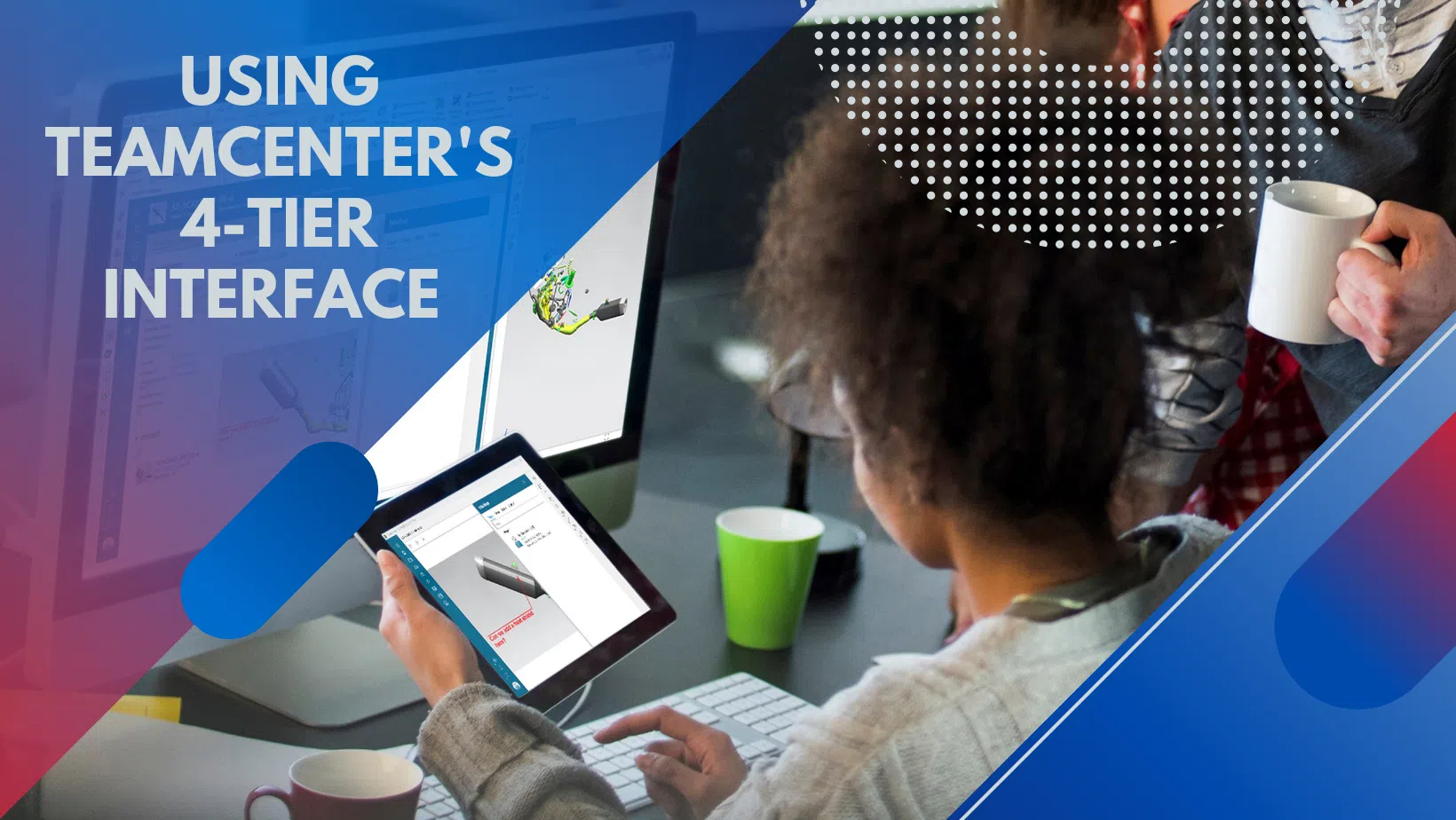 Using Teamcenter's 4-Tier Interface
Using Teamcenter 4 Tier Interface
New to Teamcenter and feeling a bit overwhelmed? We've got you covered. Today's blog will look at using the Teamcenter 4-tier interface – this should be especially helpful to new Teamcenter users.
In any organization, to use someone else's data, you must be able to find it. And then understand its context. In a lot of organizations, Share Folders are one (of many) place(s) that project data is archived.
When data is organized using folders, certain behaviors make for better results:
Folders should have meaningful and appropriate naming, and should be consistently applied
Existing naming procedures, should be followed

(e.g., Design Review – Concept Assembly [Part Number])

Assembly Summary Folders, when structured hierarchically, work best
The Teamcenter 4-Tier client follows a very familiar paradigm and utilizes "Folder" concepts to group data. Makes sense, right? Let's take a closer look!
The left most column lists choices for data selection. The middle column is the data shown from the selection. The right column is the display of the data.
This example is a share drive expanded to see a sub-folder. You see this pretty much every day…
Teamcenter User Interface – Rich Client
Look familiar?
Application Selection, left column. [My Teamcenter, Home]
Item Selection, middle column. [Pump Assembly Folder, Item Rev data selection]
Information about the data selected, right column
The Teamcenter 4-Tier interface is very similar to a Window's Explorer's one.  We are off to a familiar start.
In this Teamcenter example note the second column illustrates an assembly that has been organized with data collecting folders. This section is where the users do most of their work.
Part numbers and Folders, by a Project
Users create their own Folders and populate with their specific data.
The third column shows details.
Previews of file, File Properties, Status, and more…
Teamcenter's 4-Tier interface starts from the familiar, and then allows us to do more. Let's move on to the other functional areas for the remainder of this "using Teamcenter's 4-tier interface" blog.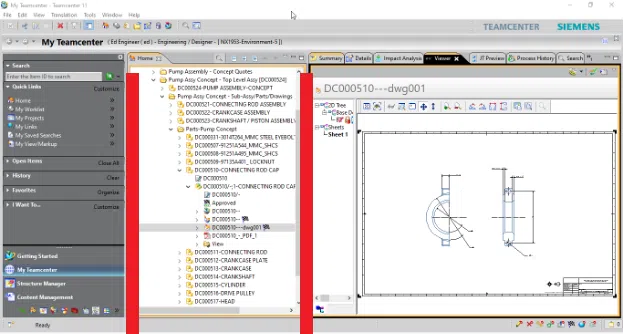 My Teamcenter (First Columnn)
HOME Folder (Second Columnn)
Data collection and Sharing take place in this column.
*Folder sharing will be covered in another summary.
(More) Information Area (Third Column)
The third column displays the highlighted objects selected.
Viewer – This tab can be configured with several features.
This example shows the JT visualization file.  A non-CAD user may examine geometry or mark up a drawing – and much more!
Teamcenter 4-Tier Terminology
Item/Item ID
The "Item ID" identifies a single, revisable, piece of data.  Each ItemID is unique. ItemID's are used for drawings and parts; they may
represent manufacturing data, supplemental parts lists, and other types of data (CNC).
Item Revision
Item is the top-level designation, revisions to the item are in the next level down. Analogous to the image above, the Item is the
hanging folder, the revisions A through F are within. Data associated to a specific item revision is found inside the revision tabs.
Part Name
The part name attribute does not have to be unique, can be free form text, can be upper/lower case text, can contain special
characters, mostly unlimited in potential content. The challenge for the organization is to utilize meaningful names that can
also be searched.
Folder
A Teamcenter function is used to collect related objects together. Folders in Teamcenter are like folders in Microsoft Windows.
There is one very important difference; objects may belong to multiple Teamcenter folders and are not duplicated. When a
web page updates, so do all the bookmark folders it is referenced by.  Teamcenter folders work the same way.
And one last thing…if you want your Part Numbers and / or Names to sort in order, do this:
Top Menu Bar > Edit > Options
Select UI [User Interface]
And then choose your option
Something to note, display follows the Unix convention, so its….. 1, 10, 2, 3…..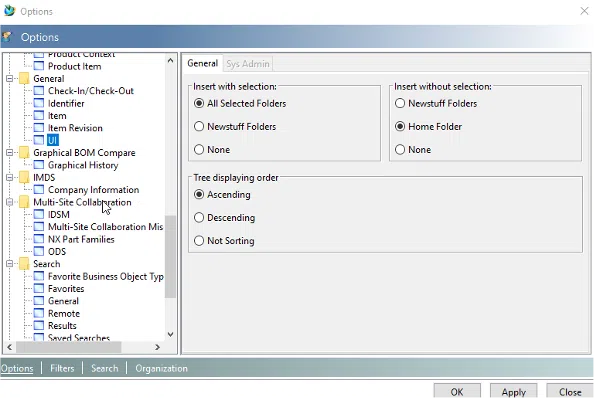 Now we've reached the end of our "Using Teamcenter's 4-Tier interface" overview.
A few notes regarding Teamcenter 4-Tier Interface:
The interface functions much like Windows Explorer making it feel familiar and intuitive to most of us.
It is configurable to address users' requirements to make repeating commands more accessible.
It enables a more comprehensive look at the data you are examining.
Questions about Teamcenter 4 tier interface or any other topics you'd like for me to cover? Drop a comment below or shoot us a quick note.
Sign Up for Our Newsletter!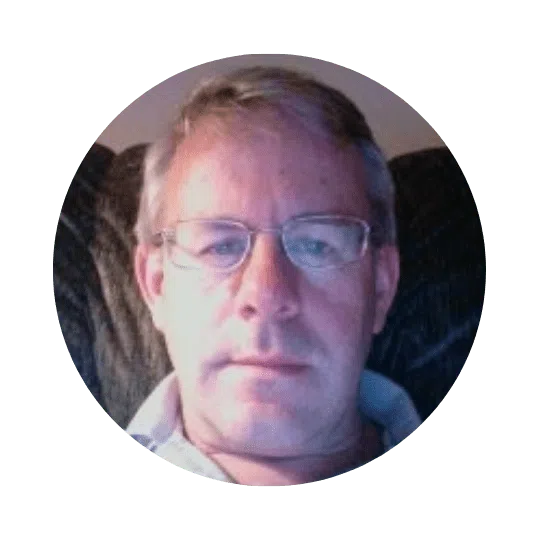 Hello, I'm Craig! With beginnings starting as an engineer/draftsman back in 1983, I was the first user of McAuto Unigraphics II Version 1.0. At that time, Teamcenter was not invented, however the need for file management was soon recognized. I am now an Application Engineer at Swoosh Technologies that specializes in Teamcenter, and has a background in new product development, working on a wide range of products such as the following: Copiers, Ink Jet Printers, Scanners, Satellites like Google Earth, Fusion Energy Research, and Industrial Compressor Design (HVAC).