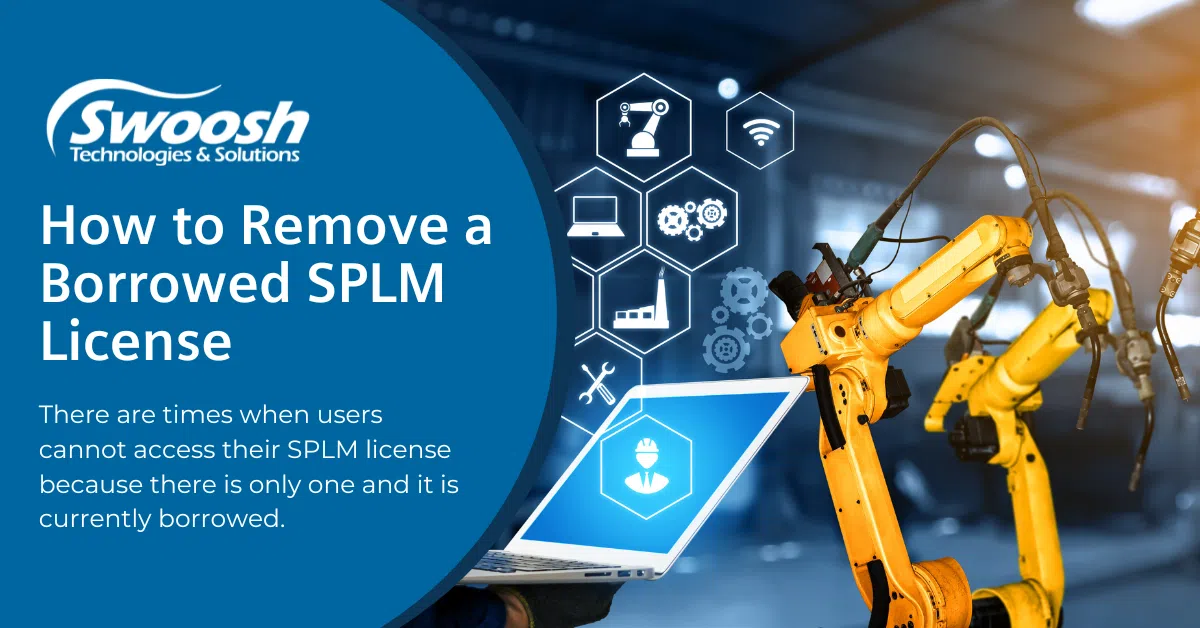 How to Remove a Borrowed SPLM License
How to Remove a Borrowed SPLM License
Sometimes there are situations in which users are unable to access their SPLM license due to the fact that there is only one license and it is currently being borrowed. Users can borrow licenses with the user interface, but it gets tied to their computer. If something were to happen to their computer (if it gets lost, stolen, or damaged) the license becomes tied to and locked to that computer. Or in other cases, users borrow a license for a prolonged period of time and it needs to be cleared so another user elsewhere can utilize the login.
As a user, you should be mindful of how long you take out a borrowed license. Often times there is a limited supply of purchased logins, and borrowing for an extended time can lead to limited amounts of licenses that users are able to access. The borrowing method should only be used for a short time use so other users can access the license as well.
In this blog, I will walk you through two methods to clear the borrowed license to get you back on track to correctly accessing your SPLM licenses.
Method 1
Note: This method should be utilized if you have access to the computer on which the license is currently being borrowed on. (If you do not have access to this computer, reference method 2).
First, you will want to login to the computer with the user that borrowed the license.
Open the Windows Start Menu > Siemens NX x.x > Licensing Tool
Select Environment Settings.
Check the Connection Status to your server. It must read "Successful".
Once the connection status is Successful, select Borrowing Settings.

Check the box before your borrowed license.
Click Return > Apply > and close the window by selecting the "X" in the upper-righthand corner.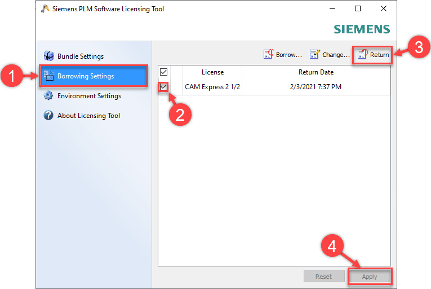 Method 2
Note: This method should be utilized if you do not have access to the computer on which the license is currently borrowed on. 
Typically, a hung or stuck borrowed license is discovered when
The user who borrowed the license believes the seat was returned, but they cannot run NX as a client connected to their license server.
The user community observes what seems to be a shortage of licenses or seats.
On the client machine:
On the client machine (and ALL CLIENT MACHINES WHO HAVE or HAVE ATTEMPTED to borrow a license):
First, log in on the client machine as the user who is having this problem.
Run Regedit.
Navigate under: HKEY_CURRENT_USER\Software\FLEXlm License Manager\Borrow
Delete as much as needs to be deleted under the /Borrow/ folder.
This will clear the hung borrowed license on the client machine.
On the license server machine:
Open a support ticket and request what is called a CLEAR BORROW license file.
During this process, you will be asked to send a copy of the license file currently in operation from the SPLM License server machine.
A CLEAR BORROW license file will be generated using your current license file and sent back to you.
Below, is a step-by-step of the clear_borrow procedure, for the SPLM license server, and each client who has borrowed a license or who has tried to borrow a license. In this example, the current active license file on the license server is named splm11.lic. In general, apply these principles based on the file name of your production license file.
On the SPLM license server machine:
Preform these actions ONLY when ALL USERS HAVE CLOSED NX, TEAMCENTER, etc. as the ugslmd license service will be stopped and started during this process. Therefore, this momentary downtime needs to planned or arranged.
Rename your current/good permanent production license file momentarily (i.e. rename to splm11_perm.lic).
Place this clear_borrow license in your license directory, and name it the same name of your active license (i.e. splm11.lic)
Stop and Start the Siemens PLM License Server (ugslmd) service in LMTOOLS (Start/Stop/Reread tab) – do not use Reread (This will clear the license server of any hung borrowed licenses).
After instating the clear borrow license temporarily, rename that clear borrow license back to clear_borrow.lic (or something to that effect).
Then, rename the splm11_perm.lic back to splm11.lic.
After you have completed these steps you should stop and start the Siemens PLM License Server (ugslmd) service again in LMTOOLS in order to restore your normal production license file. And users can now resume and run their ugslmd licensed applications.
For more tutorials like How to Removed a Borrowed SPLM License, check out our library of articles, or check out our YouTube Page for even more!
As one of the original System and Application Architect/Programmer at Siemens Digital Industries Software (formerly Unigraphics), Dan is the go-to Teamcenter expert at Swoosh Technologies. His background as a PLM Software Architect makes him one a well sought-after implementation provider, trainer, and support consultant.