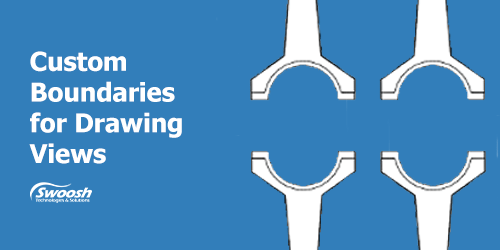 Custom Boundaries for Drawing Views
Custom Boundaries for Drawing Views
Note: We will be covering other commonly overlooked functions, like creating custom boundaries from drawing views, at our first-ever virtual edition of NX University–a one-day event covering new features, hidden gems, and best practices for NX Design and Manufacturing users.
Editing drawing view boundaries can be very clean and efficient way to properly crop drawing views. In this example, adding a spline clearly demonstrates that the part has been trimmed.
Expand the drawing view you wish to edit. This can be done by right clicking on the boundary and selecting expand. The view will fill the entire graphics window.
Select Studio Spline, or if it's not present on the ribbon bar, use the command finder to search for it. It can be easily added to the ribbon bar from the command finder.
Draw a spline through points by clicking through your view. This will act as the divider for the boundary, so keep in mine the angle of the spline at the start and end points. The Parameterization, Drawing Plane, and Movement settings can be left as default.
Drag the poles and select OK when the spline is in the correct position. In this case, things to the right of the spline will be trimmed, so the ends of the spline is facing to the left.
Right click and expand the drawing view back to the entire sheet.
Right click on the view border and select Boundary.
Change the selection from "Automatic Rectangle" to "Break Line/Detail". Then, select the created spline and click Apply. A line connecting the endpoints will then appear.
Click the newly formed line and then click again to move and place the line. This will be done twice to define the new corners. The first of all the mouse clicks is shown in the image above.

**These are just guidelines, the clicks can deviate from the location shown in this demo.**
Select OK and the view boundary should then trim.
And here is your finished product! Enjoy!
For more tutorials like our variable helix NX CAD tutorial, check out our library of articles.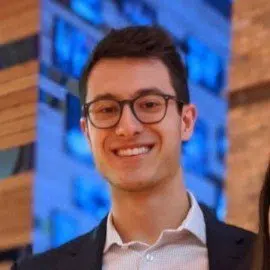 Dominic's approach with CAD software is influenced by his heavy background in mechanical engineering. With his career beginnings at Eastman Machine to providing his expertise at Calspan to joining the top tech team at Swoosh, he offers fellow NX CAD engineers best practices in 2D design, concept layout, additive manufacturing, and structural design modifications.