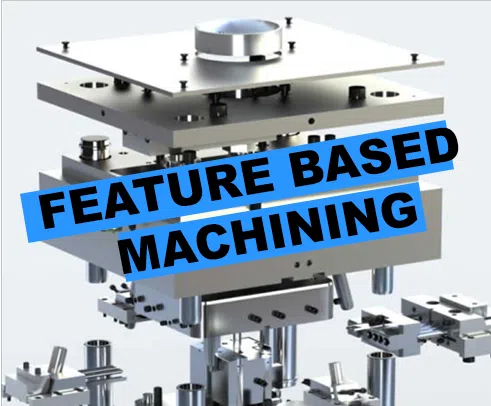 Feature Based Machining – Feature Recognition & Grouping
Feature Based Machining – Feature Recognition & Grouping
We receive many questions regarding Siemen's NX Feature Based Machining tool. Customers want a better understanding of the OOTB (out of the box) functionality, as well as levels of customizations that can be done to minimize efforts and time spent by the CNC programmers while operating within company standard practices. This is the first piece in a series of blogs to create some additional exposure to these tools.
Feature recognition is the first step to using feature-based machining. Often customers get no further than using this function, and while it is a good start, should not be our end goal. We will start with looking at the use cases for feature recognition using this sample plate. I start by specifying my part geometry in the Geometry View of the Open Navigator.
Using the Find Features command, NX will interrogate the solid 3D model to find and classify feature that are found. The part geometry can be a native NX model or a dumb body from other systems. When we set the Feature Type as Parametric Recognition, Search Method as Workpiece, and Feature to Recognize as Parametric Features, NX will find and create Features for all geometry possible.
These features can now be grouped and used as geometry for manufacturing purposes using the Group Features command. Right click in the white space in the Machining Feature Navigator –> Group Features.
Geometry groups are now available in the Operations Navigator –> Geometry View to be used for your manufacturing operations.
In the next issues of this blog we will look at creating Feature Processes utilizing the build in Machining Knowledge functions.
Enjoy!