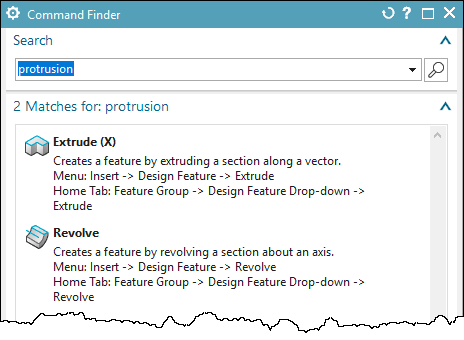 HELP… Who Has Time for It?
Support Systems and Resources Available for Users of Siemens NX Software and Related Products
But wait! Did you know that there are over thirty different commands and subroutines with the intention of helping you solve problems?
For instance, did you know that the Command Finder has stored information for commands that aren't even in NX? Go ahead! Try it! Enter "protrusion", a command common to Ideas, Pro/E, and perhaps 1 or 2 other CAD systems.
Results are displayed! Siemens has actually mapped NX command equivalencies to those that are common functions in other CAD/CAM/CAE systems. When the parameters and the approach you're taking don't cut it, try searching for that command. This will help you see what other equivalencies show up in the Command Finder. Some may open up a whole new world of NX functionality.
Keep in mind that there's an option in the Settings group in the Command Finder dialog to eliminate irrelevant results. This consists of commands in Mfg, Routing, or Simulation applications by selecting the "Find Commands in Current Application Only" option.
The Obstructions to Getting "Help"
While working in NX, every user gets to a point where they must attempt a new approach in accomplishing their task. Often, it's merely using a command they've already used. However, it could also be something from long ago and they've forgotten how to do it.
Today's computer-savvy user is usually aware of common resources such as YouTube and Google. They're also usually aware of the various engineering special interest groups (SIG's) on the internet to find information. Users need to be aware that much of this "advice" is inaccurate, inappropriate, and sometimes downright destructive. One must be aware that just because a user presents a video that demonstrates a methodology that achieves a "qualified" result.
I once read an article on how to create a center template spline between two different input splines. This was done using an elaborate process involving the development of construction curves, sectioning planes, projections, and interrelated expressions.
In NX, all that is necessary is a Ruled Feature and an Isoparametric Curve feature. The Rule Feature is created from both of the input splines. A simple Isoparametric Curve feature is created from that sheet body with 3 output curves in the "V" direction. The middle Isoparametric Curveis the exact spline desired, using only 2 features, and was associative to the input splines. The task normally takes less than a minute and then the user can move on to finish the model quickly.
Experience is Crucial
This kind of "help" comes from resources having knowledge and wisdom. This is usually in the form of practical experience.
"Practical, knowledgeable experience is the single greatest resource of all. Period."
Other obstructions to getting effective help when necessary are simply:
Arrogance of users who believe they don't need help
Disdain for the "waste" of time searching for the specific answer
Frustration from dealing with network or connection configuration issues.
Well let's address those perspectives, the latter first.
Network or Connection Configuration Issues
Network or connection configuration issues are usually not the fault of the user who needs help, but that of the support or administrative side. However, sometimes the user is ignorant of how simple the configuration solution can be. These issues directly impact the variety of help resources available from several of the NX Menu drop-down options shown:
Of the Help options listed above – On Context, NX Help, Release Notes, What's New Guide, Learning Advantage, Manufacturing Tutorials, Online Technical Support options, and PLM Community Forums options – all need one of two things in order to be available:
Configuration settings that allow the user access to the source data on the computer or environment network.
An internet connection to a valid Siemens Webkey account.
Getting Access to Help
Configuration settings that allow user access to help is accomplish-able by two methods:
Downloading, unzipping, and installing the Siemens "Help Docs" on the user's computer or local network (documentation server)
Creating an environment variable that points to the Siemens help documentation website
In "1" above, it is now much more common in a company of multiple users of 3 or more to install the documentation server and help data on a separate computer and then simply create an environment variable that points to that server:
UGII_UGDOC_BASE = S:\engineering\NX\documentation\help
No Internet Required
In NX10, a "documentation server" routine was added into the installation process. This eliminates the need to install the help documentation onto each user's computer along with a version specific copy of Java. If you upgrade Siemens software to the next version, Java will also need to be updated and installed. The doc server utility now allows company sites to install once on a server computer, installing Java only once, and all users needing help documentation simply need the variable pointing to the doc server and firewall free access to that server on their network. If the documentation needs an update, it can be done on the server.
You must also realize that viewing of the content will require a web browser on the user computer. This configuration option is not actually using any WiFi or Ethernet connection to connect to the internet. It's merely accessing the html data locally and displaying it in the browser just like MS Word would display a Word ".doc" file.
Internet Required
The alternate to this configuration is "2" above, to create an environment variable that points to the actual Siemens hep docs website:
UGII_UGDOC_BASE = https://docs.plm.automation.siemens.com
This option requires that the user connect to the internet in order to be able to access the help docs. Without the connection, there is no help available.
The Webkey Account Management tool is readily available on the GTAC global support website at: https://www.plm.automation.siemens.com/global/en/support/
Usually, a Webkey account is automatically opened for the customer contact when the account is created but an unlimited number of Webkey accounts are available for users associated with the customer account. This only requires a valid "Sold To" number, available at the top of your Siemens license file or through your Siemens partner support system, and a valid email address. You can also start the process of creating a Webkey account using the option in NX. Click Menu→Help→Online Technical Support→Obtain a Webkey Account.
Obviously, the user's internet access is up to them or their local support system to set up. With today's "plug and play" systems and the inherent focus of most applications on internet ID's and accounts, it's nearly impossible to not have internet access just by turning the computer on. It will literally walk the user through the process of making them globally exposed to all aspects of the internet.
And don't forget that, often, computer firewall settings must be off in order to access certain data and application routines. The user can control these on the computer operating system (OS).
The "Waste" of Time Searching for the Specific Answer
Here's where users might be enlightened to know about the many specific searching tools that get answers as fast as possible. And there are not only easy access links to resources that provide answers to your questions and issues but also many other convenient tools to get the ball rolling easily if/when you need to escalate an issue to an IR (Incident Report) or PR (Problem Report). Keep in mind that, regardless of the configuration you are using (local installation of the help docs, documentation server, or Siemens website), the help documentation is html based data and will be accessed using a web browser on the user's computer.
On Context
This is a great tool for cutting down the search time to practically nothing! You select the "?"  icon while you have the dialog open for the command you need help with and NX starts the help doc's and navigates to that specific topic in the doc's. The body of the page will explain the content of the dialog and there will be links on the right side to focus in on subtopics or other related considerations:
NX Help
This is the main documentation utility link which will take you to the home/landing page of the help html files. If the configuration is set up to access the data of the help doc's, it's merely displaying the .html data in the user's default web browser. It's not actually accessing the data through the internet. If the configuration is set up with an environment variable that points to the Siemens GTAC help documentation website, then an internet connection is necessary. Regardless of the configuration method, the available data is identical.
Release Notes
The Release Notes simply provide overview information. This is generally about the current version in use, system and platform requirements, licensing and software caveats, customer support, software compatibility, etc.
What's New Guide
This option is handy when a user has updated to a newer version of the Siemens software and has no familiarity with the enhancements or new options. Like the web browser based help doc's, you can navigate this utility easily by using the indented links on the left.
Learning Advantage
This is the online tutorial that has been available from Siemens for decades. It was also a new generation of the CAST (Computer Aided Self Teaching) utility from long ago. However, Learning Advantage offers animation in the illustrations, quizzes, hands-on, and other learning tools to aid in long term memory of the content. Admittedly, this is not for the hyperactive user who finds a training tool entertaining. Learning Advantage provides hands-on activities which can be completed simultaneously in the Siemens software while going through the tutorial.
Manufacturing Tutorials
Similar to the Learning Advantage utility, this option merely focuses on the manufacturing side of the software. It assumes a certain amount of knowledge and experience with the design side and understanding of the interface, Gateway application, and fundamental modeling concepts.
Online Technical Support
The Online Technical Support options include routines and executables which can spawn processes to address software issues, problems, bugs, enhancement requests, and more. You can track existing IR's and PR's, conference with experts electronically, access hardware and software Certification information, license download and generation, and, most importantly, access the database of symptoms and solutions within a community environment including other users across the globe in addition to the responses and help from Siemens experts:
Lastly, the PLM Community Forums options include website links that allow users to enter discussions on the complete diversity of topics related to 4 major areas of software: design, manufacturing, customization and programming, and simulation. Here, you can engage in live, continuing dialog with Siemens experts as well as other authoritative and experienced users.
Arrogance
This is the last and greatest of the obstructions to gaining insight and help in using the Siemens software. It's one which cannot be overcome by any expert or authoritative veteran. It's a defiant obstruction that only the user themselves can solve, by merely admitting they don't know it all.
I can tell you from experience, NO ONE KNOWS IT ALL!
"The first step in learning is to realize that you are ignorant."