Changing the Default Line Thickness on Parts
Draft Q&A
How do you change the default line thickness on parts in a draft?
The part lines are controlled by a style, in this case "Visible Edge Style"
These styles are controlled in the "Styles" menu:
Select "Line", "Visible" and click "Modify"
Click on the "General" Tab and set the width:
How do you make a standard bill of materials table with the settings saved into the border template?
This is can go in a couple of different directions, 1st – you can save BOM settings and re-call them when needed in the properties menu:
You can go each tab and make changes and when done, go to the "General" tab and you can save the settings under a new name.
Then when needed you can re-call the settings by clicking the drop menu on the Parts list command bar.
2nd you can create something called a Quicksheet Template:
https://docs.plm.automation.siemens.com/tdoc/se/107/help/#uid:quksht1c
Once you have a draft setup with views and a Parts List (BOM) you save it, and then go to the Application Menuà and select Create Quicksheet Template, then you will see a warning dialog box (this is just letting you know that the views, dim and other information will be deleted and it will just keep the settings and views. Click "Yes"
Save the file to your template dir.
Then with the QS loaded, just add part to file and the views and BOM will be created.
How do you reference the mass/weight from the part file in a draft?
Before you get to the draft, you need to ensure that material has been set on the part in the modeling environment and Physical Properties have been updated:
In the Draft, use the Callout command, select Property Text, from the Drop Down menu select "Index Reference", scroll down to "Mass", click "Select" and click "OK"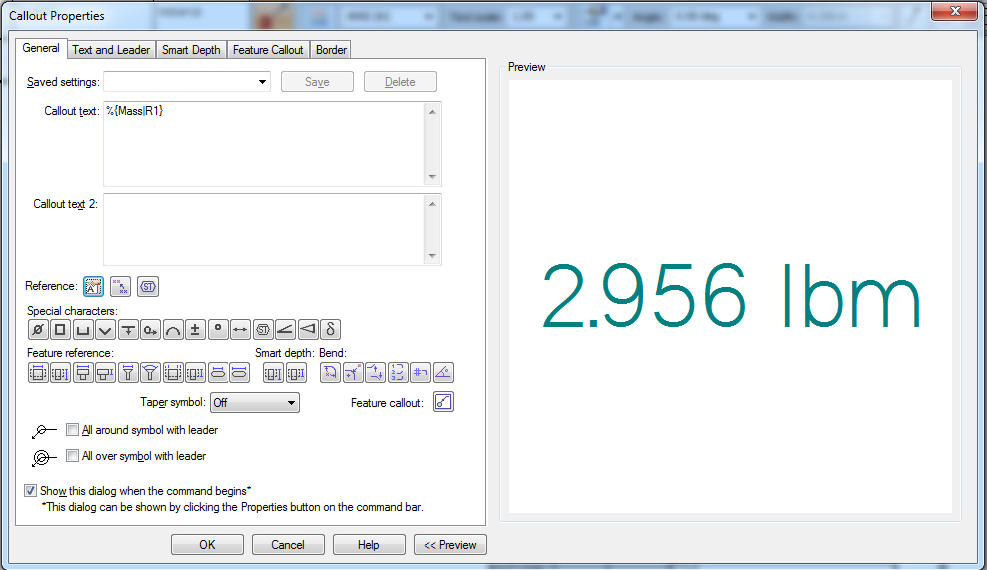 On the command bar de-select the leader line and the brake line and place the Callout.
***If you want this on the Title Block, then you need to add this Callout to the Background instead of the Working Sheet View
How do you get the information of a threaded hole that was created in the model to it was input when the hole was made?
Create the hole in the mode using the Hole command:
While in the modeling environment, you can go to "PMI" choose "Callout"
Clear the Callout Text boxes, and select the "Feature Callout" tab, and copy the line of text next to Simple (threaded) ( you can also build your own Callouts by choosing from the small icons on the bottom of the dialog box)
Click "OK" and select the hole and place the PMI (re-select the leader line and the break in the leader if needed)
In the draft, repeat the steps above. Or, just retrieve the on that view: